Home > Products > Rolling Mill > Foil / Sheet / Strip Mills > Aluminum Foil Mills, Strip Mills for Copper alloy, Skinpass Mills for Steel
Aluminum Foil Mills, Strip Mills for Copper alloy, Skinpass Mills for Steel
3. Aluminum Foil Mills

Product Summary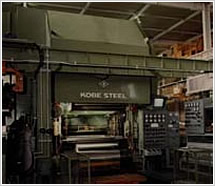 Four-high aluminum foil mill
Kobe Steel has researched, designed and manufactured aluminum foil production facilities since1965.
Our aluminum foil rolling mills have earned a high reputation in the domestic and international markets.
During the design and fabrication of machinery, Kobe Steel constantly works towards optimum performance, increased effectiveness and lower costs by clearly defining the role of each specific piece of equipment in the manufacturing train.
By combining our superior technology and years of experience with the capabilities of our subsidiaries, Kobe Steel offers planning consultation, engineering, and fabrication of aluminum foil manufacturing facilities to users around the world.
Main menu

Four-high hydraulic cold strip mill
Four-high hydraulic foil mill
Aluminum foil plant
4. Strip Mills for Copper alloy

Product Summary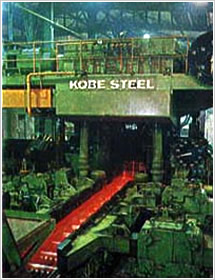 Two-high hot rolling mill
Kobe Steel has supplied several facilities and process plants for copper and copper alloy from strip mills to foil mills around the world.
In particular, our 4-High cold rolling mill and multi-high mills (KT Mill & KST Mill) have earned a high reputation in domestic and international market.
Main menu

Two-high reversible hot mill
Two-stand tandem cold strip mill
Cold roughing & finishing rolling mill
20-high rolling mill (KST Mill)
12-high rolling mill (KT Mill)
Skinpass mill
2-high/4-high combination mill for copper foil
5. Skinpass Mills for Steel

Product Summary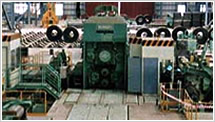 Four-high hydraulic skinpass mill
For steel, we have supplied skinpass mills and billet mills. The design of Kobe Steel's skinpass mill line for hot rolled coil provides for every possible operational requirement, thus meeting every customer's varied needs. In particular, employment of asymmetrical roll bending control has widened the mill's flatness control capacity. Automatic control of coil handling can also be utilized.
Main menu

2-high/4-high hot skinpass rolling mill
2-high/4-high hot & cold rolling mill