Home > Products > Standard Compressors > Standard Screw Refrigeration Compressors > Ammonia Interter Drive Compressor iZN Series
Ammonia Interter Drive Compressor iZN Series
Innovative solution to help decrease global warming:
KOBELCO's inverter drive ammonia screw compressor

Under pressure to reduce global warming, manufacturers are phasing out the use of HCFC as a compressor refrigerant. Even HFC refrigerant, which does not destroy the ozone layer, is designated as a chemical substance subject to emission reduction.
As the disuse of HCFCs moves forward, KOBELCO, which developed the world's first inverter screw compressor, introduces the iZN Series of screw refrigeration compressors.
The iZN Series use natural refrigerant NH3 (ammonia), which does not contribute to global warming. KOBELCO's well-established inverter control technology yields energy savings, while accelerating RPM technology. The KOBELCO iZN Series offers not only excellent Coefficient of Performance (COP), but also eco-friendly operation.
Ammonia inverter screw compressor series

Model Name
Semi-hermetic type
Open type
iZN40W
iZN70W
iZN80W
iZN140W
iZN160W
iZN200
TUW/A
iZN240
TUW/A
iZN16TX
Ⅱ-5A
iZN20TX
Ⅱ-3A
iZN20TX
Ⅱ-4A
Moter ratings (kW)
24
37
45
37×2
45×2
100
125
135
180
250
Semi-
Hermetic
Condensing
unit
●
●
●
●
●
-
-
-
-
-
Compressor
unit
●
●
●
●
●
●
●
-
-
-
Open
Compressor
unit
-
-
-
-
-
-
-
●
●
●
Full loader series

Model Name

Open type

SHN20TX
Ⅱ-3A
SHN20TX
Ⅱ-4A
Moter ratings (kW)
220
315
Semi-Hermetic
Condensing unit
-
-
Compressor unit
-
-
Open
Compressor unit
●
●
* For the multiple driving system
Kobelco's
six

big features.

1. Outstanding energy-saving performance by Kobelco inverter drive compressor

The iZN series can control its cooling capacity with its inverter drive linear speed control to avoid excessive cooling, thereby permitting outstanding energy-saving performance.
A piston valve used for capacity control has been replaced to inverter drive capacity control to ensure optimum operation in accordance with cooling capacity fluctuation.
2. Maximum 40% increase in cooling capacity by accelerating rotating speed of inverter drive

(Compared with KOBELCO conventional model in 50Hz area)
Conventional refrigeration compressor has been unavoidable to reduce cooling capacity significantly accompany with evaporating temperature drops. Accelerating motor speed technology with inverter drive (Patent registered) enable iZN series increase its cooling capacity at lower temperature than -30°C.
The iZN series can perform equally in both of 50Hz and 60Hz area, which is a big merit for 50Hz area users where 20% less performance than 60Hz area has been unavoidable. Those functions enable to select smaller compressor than before.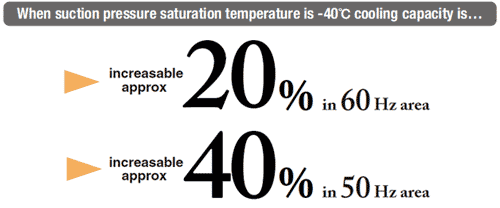 iZN Series motor speed accelerates accompany with evaporating temperature drop.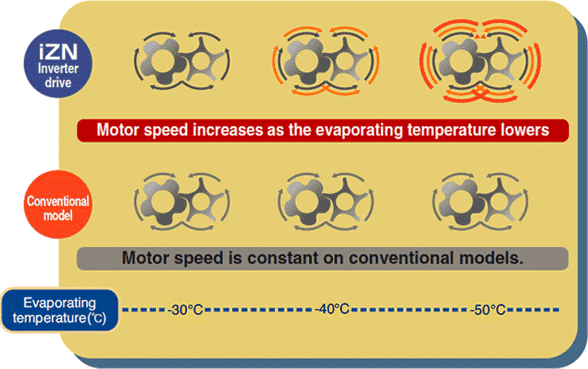 3. New iZ monitor with various functions for quick and advance trouble shooting

The New iZ monitor indicates compressor running conditions, various alarms and those histories. It also stops the compressor automatically in an emergency.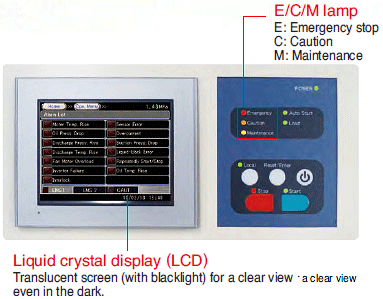 Alternative running applications

Alternative linear capacity control or step capacity control can be selected to meet clients' requirements.

Suction pressure / Remote temperature capacity control

Linear capacity control with originally equipped suction pressure sensor and also optionally installed temperature sensor (Supplied by user) at freezing site are available.

Additional indication

Super heat is added to monitor compressor conditions more clearly.
Linear capacity control

Linear capacity control mode enables automatic stepless changing of the rotating speed, with targeted values set for suction pressure and inside temperature.
Control is possible even with input of a 4-20mA DC signal from the sensor.

Step control

Capacity step control function is also equipped with iZ monitor. Its setting value is available to change flexibly.
Compressor protective functions

Discharge temperature
Oil pressure differential
Discharge pressure
Over current
Motor temperature
4. Merits of motor start-up by inverter drive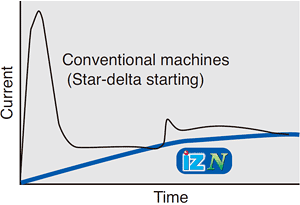 Smooth motor startup by inveter drive eliminates inrush current and hot start
The effect of an inverter drive can be found when starting up a compressor, since conventional star-delta start-up induces inrush current and requires an approx 10-minute interval before restarting. Thanks to an inverter that allows smooth starting, the iZN series can restart quickly without any interval. The smooth starting mechanism permits the compressor to stop even when conventional conditions for interruption are not allowed. This mechanism enables more effective energy savings and downsizing of the power facility.
5. Multiple effects created by economizer and inverter drive harmony

The iZN series is equipped with an economizer regulate and control rotating speed at the 1st and 2nd stage of the inverter drive. If the 1st and 2nd stages do not change their rotating speed, economizer cannot perform properly because of pressure unbalance among the 1st , middle and 2nd stages. The iZN series can control rotating speed flexibly and perfectly to supply the best performance.

6. Ammonia resistant motor with aluminum coil

* Semi-hermetic type only

What is a multiple compressor driving system?

A multiple compressor driving system can be implemented when a user needs the full capacity of two or more compressors. In this system, the compressors have similar freezing capacities.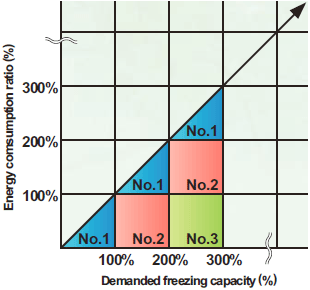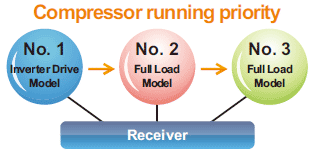 Inverter drive model No.1, serving as the capacity controller, starts running.
When the freezing capacity of model No. 1 exceeds 100%, full load model No. 2 starts running.
When the freezing capacities of models No.1 and No. 2 are more than 200%, full load model No. 3 starts running.
Compressors No. 2 and No. 3 may start in any order. In other words, after compressor No. 1 reaches full capacity, compressor No. 3 may start first, followed by compressor No. 2.
| Compressor Models | Capacity Control |
| --- | --- |
| Inverter Drive Model | 0-100% |
| Full Load Model | 100% only* |
* Full Load Model has no capacity control devices with it.
Brochure


Adobe Reader is Required
Adobe Reader is requied in order to view a PDF file.
Click the banner below to download Adobe Reader.