Home > Welding > Kobelco Welding Today

It is a magazine for business issued to introduce our products, technology, and activity to everybody of the customer related to the welding of the world and the sales network. The aspect is applied from various angles like latest information concerning the material and construction technology and our business operation, etc. and it introduces it from the abc of the welding.
Latest & Recent Issues

eBook Format
PDF Format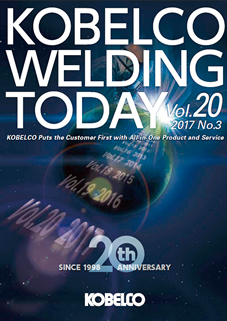 Kobelco Welding Today Vol.20 No.3 2017

Special Message
Head of the Welding Business reflects upon the publication of KWT's 20th anniversary special issue
Feature Article
THE KOBELCO ARC over the Last Decade
Feature Article (System)
THE KOBELCO ARC over the Last Decade: Welding systems and equipment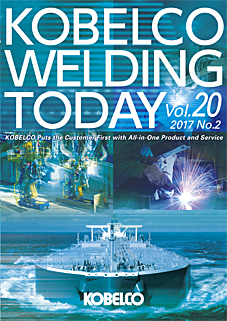 Kobelco Welding Today Vol.20 No.2 2017

Bulletin
Welding Business to make organizational changes
Preface
Another year of progress in welding automation
Products Spotlight
ARCMAN™ Robotic Welding System for Hull Assembly in Shipbuilding
Bulletin
FABTECH2016 in Las Vegas: A special exhibition for KOBELCO
KWE's social and educational activities
Metaltech Malaysia 2016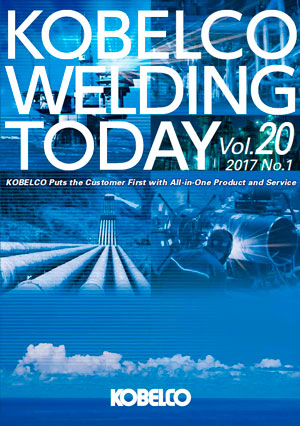 Kobelco Welding Today Vol.20 No.1 2017

Bulletin
Round Robin Test Reports:Analysis of trace elements in Cr-Mo-V steel weld metal at IIW/C-II/SC-E
Preface
Three"M"s:Marketing, Monodzukuri and Manpower
Products Spotlight
TRUSTARC™ DW-A62LSR(A5.29 E91T1-GM)improves notch toughness of HSLA weld metal after PWHT
Bulletin
The 7th India Essen 2016 in Mumbai
WELDEX 2016:Welding Exhibition in Moscow
Archives

Adobe Reader is Required
Adobe Reader is requied in order to view a PDF file.
Click the banner below to download Adobe Reader.