Home > Welding > Kobelco Welding Today

It is a magazine for business issued to introduce our products, technology, and activity to everybody of the customer related to the welding of the world and the sales network. The aspect is applied from various angles like latest information concerning the material and construction technology and our business operation, etc. and it introduces it from the abc of the welding.
Latest & Recent Issues

eBook Format
PDF Format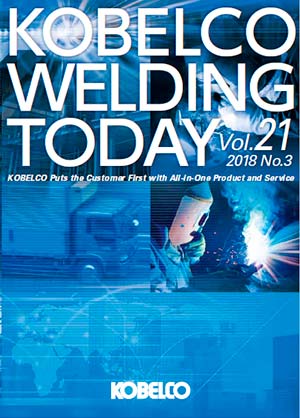 Kobelco Welding Today Vol.21 No.3 2018

Products Spotlight
FAMILIARC™ MG-1T(F) controls wire feeding in high speed welding of thin steel plates
Preface
KOBELCO's pioneer and leader of overseas business: TKW in Thailand
Technical Highlight
"1Z Series" welding consumables for galvanized steel sheets
Bulletin
TKW's 50th and KMWT's 30th anniversaries in Thailand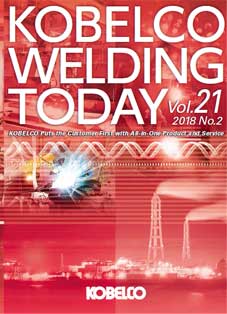 Kobelco Welding Today Vol.21 No.2 2018

Preface
Inaugural address by Akira Yamamoto, new Head of the Welding Business!
Welding automation with ISHIMATSU, the portable robot, and PLM
Technical Highlight
B91 Series welding consumables for Grade 91 Steels
Products Spotlight
PF-N5/US-609S for SAW on 9%Ni steels: Excellent solution in horizontal and flat positions
Bulletin
"KOBELCO-Your Best Partner" highlighted at JIWS 2018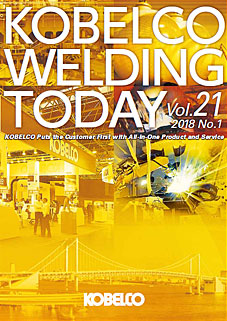 Kobelco Welding Today Vol.21 No.1 2018

Products Spotlight
PREMIARC™ NI-C6J for 9%Ni steel: Excellent porosity and hot crack resistance.
Preface
Year 2018: Enhancing Marketing Capabilities and Facing New Challenges!
Technical Highlight
Hybrid Tandem MAG Welding Process: An effective porosity-reduction method for welding primer-coated steel plates.
Bulletin
With the new slogan "Together We Are Strong," INTIWI celebrated its 40th anniversary.
Welcoming visitors with "Say Hi to the Original!" at the 2017 Schweissen & Schneiden Düsseldorf.
KOBELCO participates at FABTECH 2017, under the slogan "Your Best Partner KOBELCO".
Archives

Adobe Reader is Required
Adobe Reader is requied in order to view a PDF file.
Click the banner below to download Adobe Reader.