Home > Notices > Notices > Development and launch of ARCMAN™-GS arc welding robot
Notices
The information on this Web site is presented "as is." Product availability, organization, and other content may differ from the time the information was originally posted. Changes may take place without notice.

Development and launch of ARCMAN™-GS arc welding robot
September 6, 2011
Kobe Steel's ARCMAN series arc welding robots are used extensively by customers in order to weld medium plate, for purposes ranging from construction machinery and steel frames to bridges and rolling stock. We have provided customers with welding solutions for many years and have built up a high level of expertise in the field of welding processes and systems. This has enabled us to develop the ideal arc welding robot for welding medium plate, in the form of the ARCMAN -GS.
Having received glowing feedback from customers at the Japan International Welding Show last year, we have continued to develop the ARCMAN -GS and prepare it for market ever since. As a result, the first products will go on sale on September 1 this year.
1. Development background and details
Our new ARCMAN -GS arc welding robot is designed for welding medium plate, for purposes such as construction machinery. With soaring demand for construction machinery for the Chinese market in particular, domestic and overseas manufacturers alike are pushing ahead with capital investment in order to increase productivity and tap into that demand. We intend to help our customers resolve any issues as part of this process by supplying them with the ideal new robot for welding medium plate.
Welding medium plate for purposes such as construction machinery frequently involves using welding torches deep inside the workpiece. As torches and torch cables can easily interfere with the workpiece, it is necessary to teach robots to avoid such interference. To resolve this issue, we have been working to develop more widely usable robots, with integrated cables so as to make it easier for robots to access narrow spaces.
Tandem welding is commonly used when welding medium plate, to enable high efficiency welding. As this results in a larger torch however, it is unsuitable for narrow spaces due to interference between the torch and the workpiece. With the ARCMAN -GS however, it is also possible to integrate torch cables for tandem welding. Another key feature is the ability to switch torches. This means that, if a welding location is unsuitable for tandem welding, the torch can be replaced with a single welding torch to carry out the job, thereby increasing the robot's usability.
Overhead-suspended systems, whereby robots are suspended from an overhead positioner in order to approach the workpiece from above, offer benefits such as improved access to large workpieces, and increased safety and efficiency due to the absence of machinery on the ground, and are widely used as a result. With manufacturers in the construction machinery sector looking to increase efficiency and productivity even further in order to cope with massive demand, more and more overhead-suspended systems are likely to be required in the future. Robots therefore need to have the operating radius to handle such systems.
With this in mind, we have continued to develop robots that have a large operating radius and are compatible with overhead-suspended systems, as well as offering increased usability and integrated cables ideal for offline teaching. As a result, we are now ready to launch the ARCMAN -GS.
As a comprehensive welding supplier, we will continue to develop new products in the future in order to provide our customers with welding solutions that help resolve their welding-related issues, including welding materials, power sources and peripherals as well as actual robots.
2. Main features of the ARCMAN -GS

(1) Features
(i) Variable cable integration method depending on system, ideal for offline teaching
(Fig.1: Integrated into upper arm / Fig.2: Integrated into wrist)
- Stable wire supply for improved weld quality
- Easy access to narrow spaces for improved usability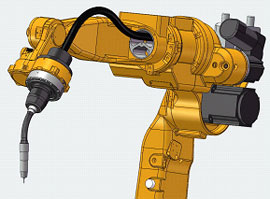 Fig.1: Cable integrated into upper arm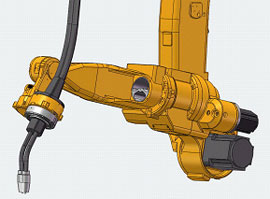 Fig.2: Torch integrated into wrist
(ii) Possible to integrate tandem torch thanks to 15kg load capacity (industry-first)
(iii) Best-in-class operating radius thanks to reverse elbow operability, especially effective in overhead-suspended systems
(iv) Can be combined with SENSARC AB500 for complete compatibility with stable production software (AP-SUPPORT)
* AP-SUPPORT stable production support software sold separately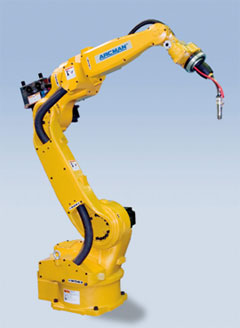 ARCMAN -GS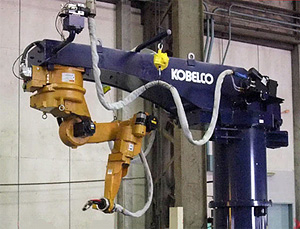 Fitted to an overhead-suspended system
(reverse elbow position)

(2) Operating radius (compared to existing ARCMAN -MP model)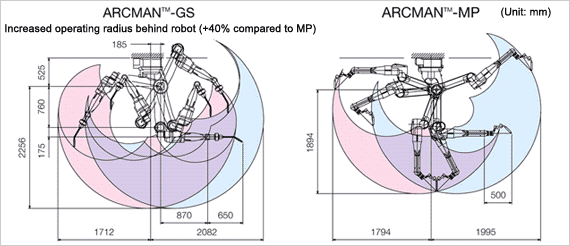 (3) ARCMAN range (CA-type controller)
ARCMAN -SR ARCMAN -MP ARCMAN -GS ARCMAN -XLmkII