Home > Notices > Notices > Kentucky Governor Steve Beshear visits Kobe Steel
Notices
The information on this Web site is presented "as is." Product availability, organization, and other content may differ from the time the information was originally posted. Changes may take place without notice.

Kentucky Governor Steve Beshear visits Kobe Steel
November 19, 2014
On November 18, Kentucky Governor Steve Beshear visited Kobe Steel's Tokyo Head Office, where he exchanged greetings with Kobe Steel executives — President and CEO Hiroya Kawasaki, Senior Managing Director Akira Kaneko, and Senior Officer Hiroshi Kato.
Bowling Green, Kentucky, USA, is the home of Kobe Aluminum Automotive Products, LCC, which manufactures and sells aluminum forgings used in automotive suspensions. Established in 2003, KAAP began production in 2005. Over the years, KAAP has continued to invest and increase its capacity. It now has six mechanical forging presses. With a production capacity of 420,000 pieces per month and approximately 400 employees, KAAP has grown to become a major manufacturing operation.
President Kawasaki said Kobe Steel aims to grow its businesses in the United States and expressed his hope for continued support from the Kentucky state government. Governor Beshear discussed Kentucky's automotive industry and business-friendly climate. He also said he welcomed further investment.
Both Kentucky and Kobe Steel plan to continue the strong relationship they have fostered over the years and confirmed they would continue to cooperate, contributing to development in the state.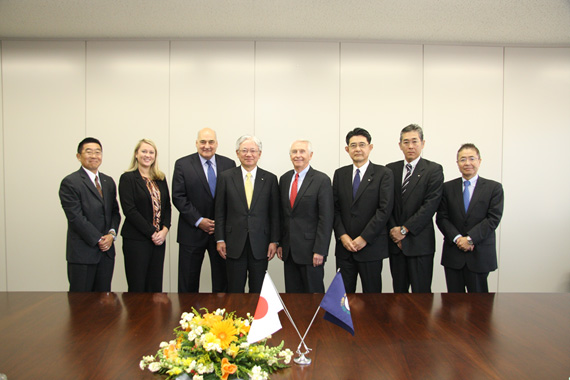 Governor Steve Beshear(fourth from right)with President and CEO Hiroya Kawasaki(fourth from left)