Home > Products > Advanced Technology Equipment > Vacuum Web Coater (Roll to Roll Coater)

This vacuum web coater is capable of plasma CVD and/or sputtering for transparent barrier coating (SiO2, etc) and/or transparent conductive oxide (ITO, etc) to plastic and metallic substrate in the roll-to-roll system.
Our roll-to-roll deposition process has the following technological variations.
Technological Variations of Deposition Process

Sputter Roll to Roll Coater
For transparent conductive oxide (TCO), optical coating and metallic coating for touch panels, FPD, photovoltaic cells, window film, etc, by sputtering with various kinds of sputter cathodes (DC, UBM, DMS, and Rotary Magnetron).
Plasma CVD Roll to Roll Coater
For transparent barrier coating for OLED device, electronic paper, lighting, and photovoltaic cells by plasma discharging between a pair of electrode rollers.
AIP Roll to Roll Coater
For metallic compound coating by vacuum arc vaporization of target material.
The above variations meet a variety of needs in R&D and full production activities in the field of flexible electronics and energy application.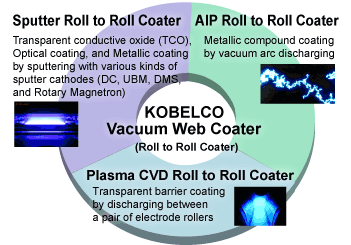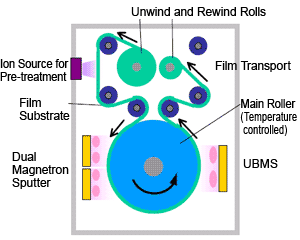 Example of the configuration for Sputtering process(W35 series)
Lineup of Vacuum Web Coaters

1. Roll to Roll coater for R&D and pilot production (W35 series): Sputtering and/or Plasma CVD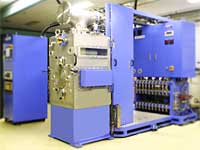 W35 series for R&D and Pilot Production
Compact design with Small foot print
Film width: 350mm, up to 800mm
Process flexibility

Can be equipped with sputtering, CVD, AIP, EB evaporation, etc.
Temperature-controlled main roller up to 300°C for heat-resistant film, flexible glass and metallic web.
2. Sputtering Roll to Roll Coater for Mass Production (W50/60S series)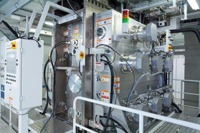 Sputtering roll coater for Mass Production
Good design for maintenance
Film width: 1,300mm, 1,600mm (up to 2,000mm)
Sputtering zone: up to 4, exhaust partition zone
High degassing capability for plastic substrate and wet coatings
3. Plasma CVD Roll to Roll Coater for Mass Production (W60C series)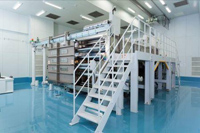 Plasma CVD roll coater for Mass Production
Good design for maintenance, fully opened chamber
Film width: 1,300mm, 1,600mm (up to 2,000mm)
High speed coating with 2 coating zones
Low contamination and high material utilization
Uniform coating in transverse direction and machine direction
4.AIP Roll to Roll Coater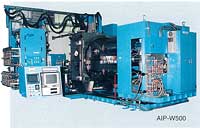 AIP Roll to Roll Coater AIP-W500
Continuous coating on metallic substrate
Double-sided coating
4. Customized Equipment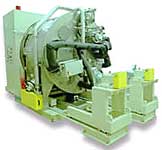 Round Chamber and Pullout Type Roll to Roll Coater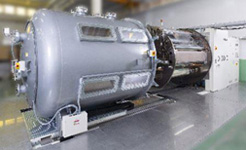 Degassing Equipment
Major Applications

ITO film for touch panel, metal mesh(Cu, Ag, Al)
Display (LCD, OLED, Electronic paper) and lighting device based on plastic film (PET, PEN, etc.)
Flexible substrate of PI with Cu coatings(FCCL, FPC)
Thin-film photovoltaic cell based on metallic and plastic substrate.
Battery and Capacitor
Window film
Anti-bacterial film