Home > Products > Focus on Outstanding Products and Technologies > Contributions to Automotive Lightweighting
Contributions to Automotive Lightweighting
As global environmental conservation grows more important around the world, automakers are working to make cars lighter to reduce CO2 emissions and improve fuel consumption. In recent years, fuel regulations have become stricter and automotive lightweighting is now the trend.
Green cars – consisting of hybrid cars, electric vehicles and fuel cell vehicles – have heavy batteries and fuel cells. Car bodies therefore need to be made much lighter. At the same time, collision safety, namely material stiffness, cannot be sacrificed.
Against this background, KOBELCO contributes to automotive lightweighting by supplying a wide variety of metal materials.
In the field of steel products, we are one of the world's leaders in high strength steel sheet, which is often used in structural components of cars. In wire rod and bar, we have developed and commercialized the world's strongest steels for engine value springs and bolts, gaining high market shares from many auto companies.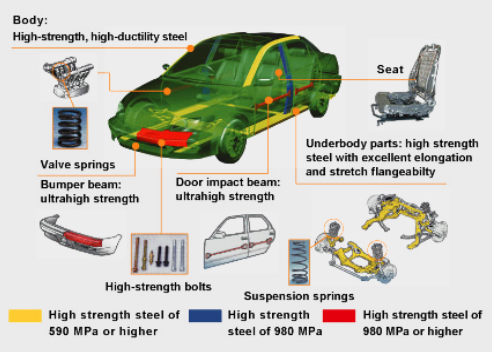 As for aluminum products, we work together with automakers right from the development and design stage for new cars. We have developed forgings for suspensions; extrusions and fabricated products for bumpers; and panel material for hoods and trunks in this way. These products are widely used by automakers to reduce vehicle weight.