TOKYO, February 2, 2016 — Kobe Steel, Ltd. announces that at its Board of Directors meeting held today, it passed a resolution to newly establish a business segment called the Electric Power Business on April 1, 2016. Kobe Steel plans to merge the electric power supply business that the Iron & Steel Business currently operates at Kobe Works and the two new electric power generation projects at Moka, Tochigi Prefecture and Kobe, Hyogo Prefecture currently under the head office into the new business segment.
Under its Fiscal 2013-2015 Medium-Term Business Plan, the Kobe Steel Group is focusing on the materials businesses consisting of iron and steel, welding, and aluminum and copper and the machinery businesses of machinery, engineering and construction machinery. The electric power supply business is the third major business field that Kobe Steel has decided to expand as a stable profit base. One of the new electric power projects underway is the gas-fired power plant at Moka. Plans call for construction to begin in fiscal 2016. The aim of this reorganization is to efficiently utilize the management resources of the current electric power supply business, unify the operation of the electric power supply business, and further clarify the management vision of the Kobe Steel Group.
As announced on December 21, 2015, Kobe Steel decided to merge its wholly owned subsidiaries Kobelco Construction Machinery Co., Ltd. and Kobelco Cranes Co., Ltd. effective April 1, 2016 to further strengthen its business base and accelerate global expansion. In addition, effective the same day, Kobelco Eco-Solutions Co., Ltd. will be included in the Engineering segment to further cooperation and strengthen profitability of the Kobe Steel Group's engineering business.
Based on these changes, from fiscal 2016, Kobe Steel will change its reporting segments when disclosing the performance of each of its businesses.
Changes in reporting segments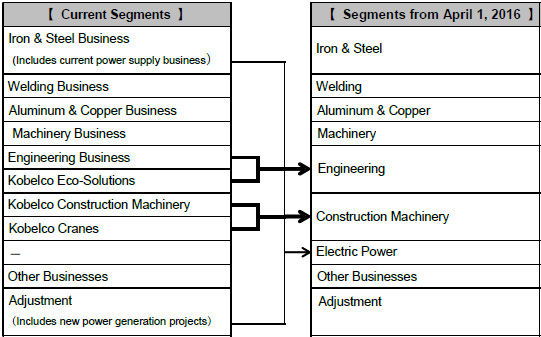 (Note) The information on this web site is presented "as is." Product availability, organization, and other content may differ from the time the information was originally posted. Changes may take place without notice.