TOKYO, July 15, 2016 — Kobe Steel, Ltd. has begun the mass production of large titanium forged parts for supply to France's Safran Landing Systems, the world leader in aircraft landing and braking systems. The forged parts are used in the landing gears of the Airbus A350 XWB planes.
After entered into a supply agreement with Safran Landing Systems in 2013, Kobe Steel undertook development and certification work. Kobe Steel has now received certification from Safran Landing Systems as planned to supply the titanium forged parts. Marking this milestone, Kobe Steel is exhibiting a forged part for landing gears at the Farnborough International Airshow, which opened on July 11.
The large titanium forged parts are manufactured by Kobe Steel and its group company, Japan Aeroforge, Ltd., based in Kurashiki, Okayama Prefecture, Japan. Japan Aeroforge is in charge of the forging process, while Kobe Steel is responsible for product process planning, quality assurance and other processes.
Japan Aeroforge is a joint venture established in January 2011 by Kobe Steel, Hitachi Metals, Ltd. and several other companies. Equipped with a 50,000-ton hydraulic forging press, one of the largest in the world, Japan Aeroforge manufactures large titanium forgings used in planes, where demand is expected to increase worldwide. Kobe Steel and Japan Aeroforge are the first companies in Japan to succeed in developing and mass producing large titanium forged parts for landing gears.
Kobe Steel is Japan's leading integrated producer of commercially pure titanium and titanium alloy products. For over 60 years, Kobe Steel has supplied titanium forgings, sheets and welded tubes to the aircraft and general industry sectors. Kobe Steel's attention to quality, process engineering and design technology acquired from its extensive supply experience to aircraft manufacturers over the years and Japan Aeroforge's state-of-the-art forging facility enables Kobe Steel to supply titanium forged products of outstanding quality to the world aircraft industry.
The A350 XWB is Airbus' all-new family of medium-sized planes for long-range flights comprising three versions that seat from 270 to 370 passengers. The A350 XWB consumes 25 percent less fuel compared with existing aircraft in this size category.
Outline of Safran Landing Systems
Established:

2011

Head office:

Velizy, France

CEO:

Vincent Mascre

Employees:

Approximately 7,000
Note: Prior to May 2016, Safran was known as Messier-Bugatti-Dowty.
Outline of Japan Aeroforge, Ltd.
Established:

January 2011

Head office:

Kurashiki, Okayama Prefecture, Japan

Capital:

1.85 billion yen

Equity share ratio:

Hitachi Metals, Ltd. 40.53%, Kobe Steel, Ltd., 40.53%, IHI Corporation (5.41%), Kawasaki Heavy Industries, Ltd. (5.41%), Marubeni-Itochu Steel Inc. (5.41%), and Sojitz Aerospace Corporation (2.70%)

President:

Masayuki Okano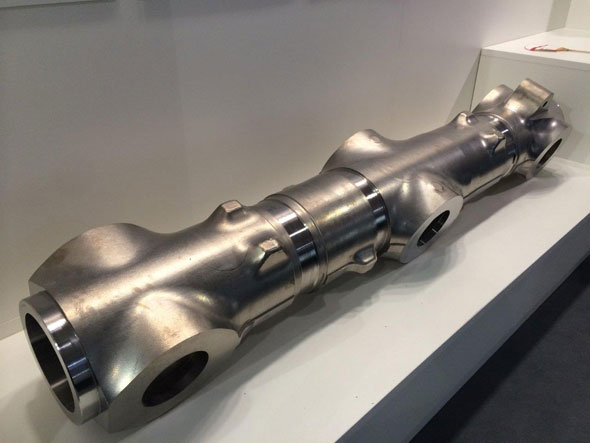 (Note) The information on this web site is presented "as is." Product availability, organization, and other content may differ from the time the information was originally posted. Changes may take place without notice.