TOKYO, August 10, 2016 — Kobelco Aluminum Products & Extrusions Inc. (or KPEX) broke ground on its production facility yesterday (August 9, U.S. time) in Bowling Green, Kentucky, USA, officially marking the start of construction. Approximately 50 people attended the groundbreaking ceremony.
A subsidiary of Kobe Steel, Ltd., KPEX will manufacture and sell aluminum bumper beam material and car frame material for the automotive industry in the United States. Fabrication operations will begin in the second half of 2017 and the melting to extrusion processes will begin in the second half of 2018.
Major participants in the groundbreaking ceremony included Bowling Green Mayor Bruce Wilkerson and Judge-Executive Mike Buchanon of Warren County. From Kobe Steel, Managing Executive Officer Takumi Fujii attended the event.
"Cars need to be lighter to reduce CO2 emissions and improve mileage. Many automakers want to use lighter materials, and our products have received high marks from them," said Fujii at the groundbreaking ceremony. "As demand for lightweight materials increases, I look forward to the future growth of KPEX," he said.
Kobe Steel has been supplying aluminum bumper materials to Japanese automakers since the 1990s. Kobe Steel's original weight-saving proposals covering both product development for high-strength 7000 series aluminum alloys and cross-section design technology have received high acclaim from customers.
Higher Corporate Average Fuel Economy (CAFE) standards for 2025 are accelerating the need to lighten car bodies in North America, the world's second largest automotive market. As a result, demand for aluminum extrusions is anticipated to expand in the future. Through innovative weight-saving proposals, KPEX aims to gain the trust of automakers in North America, as well as contribute to strengthening Kobe Steel's supply network in Japan and the United States.
Outline of KPEX
Company name:

Kobelco Aluminum Products & Extrusions Inc.

Established:

April 21, 2016

Location:

Bowling Green, Kentucky, USA
(across from Kobe Aluminum Automotive Products, LLC)

President:

Hitoshi Arimura

Capital:

$24 million

Equity share:

Kobe Steel USA Holdings Inc. 100%

Total investment:

$46.7 million

Employees:

110 (in 2019)

Main equipment:

1 melting and casting line, 1 extrusion press, 2 bumper fabrication lines

Production capacity:

About 500 tons per month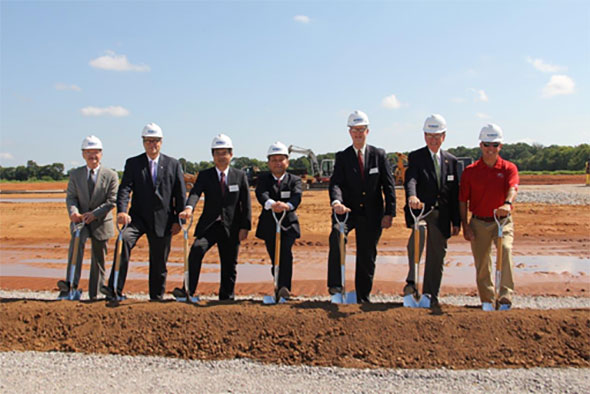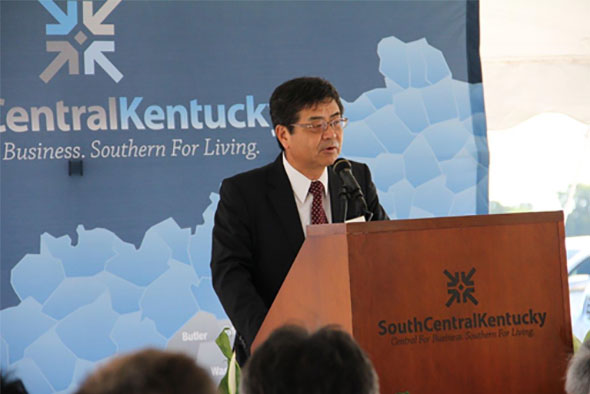 (Note) The information on this web site is presented "as is." Product availability, organization, and other content may differ from the time the information was originally posted. Changes may take place without notice.