Kobe Steel, Ltd.

TOKYO, October 13, 2016 — Kobe Steel, Ltd. announces that it has started marketing new models of the Emeraude-ALE series of oil-free standard air compressors from this month. The new compressors have achieved the world's highest class of energy efficiency and one of the lowest levels of noise during operation. In addition to Japan, the same models of this global strategic product will be manufactured at overseas locations for sale in world markets.
Kobe Steel has initially launched compressor models with equivalent specifications of 120-160 kW. Plans call for the lineup to be gradually expanded in the future. Kobelco Compressors Corporation, a wholly owned subsidiary, is responsible for marketing the new compressors in Japan, while overseas group companies are in charge of sales abroad.
Kobe Steel is a global manufacturer of standard compressors with one of the top market shares in Japan and Southeast Asia. Increasing sales of the new compressors and implementing other initiatives, Kobe Steel aims to further expand its compressor business in the future.
Standard compressors are utility equipment used in a wide range of industries and applications. They are primarily used in supplying compressed air to power equipment and plants, as well as for painting, powder conveying and other uses. The world market for standard compressors was approximately 1 trillion yen in 2015. By 2020, it is anticipated to grow to 1.1 trillion yen, according to Kobe Steel estimates. The new compressors are anticipated to help meet this growing demand.
The energy consumed by standard compressors generally accounts for about 20 percent of the total energy used by plants. As a result, energy-saving performance is extremely important. The new Emeraude-ALE compressors have achieved high efficiency and a thorough reduction in energy loss. The compressors have attained the world's highest class of energy efficiency of 5.70 kW/ (m3/min), a 3-percent improvement over Kobe Steel's conventional compressors.
Noise reduction is another important factor in consideration of nearby homes and the work environment within plants. Anew sound insulation package has been installed to achieve a noise level of 66 decibels, one of the world's lowest levels of noise, in comparison to Kobe Steel's conventional compressors at 72 decibels.
Furthermore, a new global remote monitoring function that utilizes the latest IoT (Internet of Things) technology is installed in the new compressors. Through a cloud service, energy use and operating conditions can be "visualized," providing customers with further energy savings during operation. Kobe Steel has combined both the world's highest class of performance and IoT technology in the development of these latest compressor models.
Kobe Steel's standard compressor business has built a global network for manufacturing, sales and services. It has established manufacturing locations in three countries: Japan, the United States and China. For sales and services, Kobe Steel has locations in Japan, the United States, China, Singapore, Thailand, Indonesia, Malaysia, the Philippines, Vietnam, Cambodia and India.
In the field of nonstandard compressors used in petroleum and chemical plants, Kobe Steel is the world's only manufacturer of all three major types of compressors: screw, reciprocating and centrifugal.
Additional Notes
1. Exhibition at Hannover Messe
Kobe Steel plans to exhibit the new Emeraude-ALE series at Hannover Messe, the world's largest industrial technology exhibition. The exhibition will be held from April 24-28, 2017 in Hanover, Germany. Last year, the event attracted approximately 5,200 companies and over 200,000 visitors. URL: http://www.hannovermesse.de/home
2. Oil-free compressors
Standard compressors come in two varieties. In oil-cooled compressors, oil is injected during the air compression process to improve lubricity and sealability. Compressors that do not use oil during compression to produce clean air are called oil-free compressors. In the pharmaceutical, food and electronics industries where manufacturing processes require highly clean air, oil-free compressors are often employed. The use of oil-free compressors has grown in advanced countries and is also anticipated to increase in emerging countries owing to industrial progress and stricter environmental regulations.
3. Energy efficiency of 5.70 kW/ (m3/min)
This figure is an index of energy consumed to compress 1 cubic meter of air per minute. It is determined by dividing the electricity consumed by the volume of compressed air produced. The lower the figure, the higher the energy efficiency.
4. Kobe Steel's compressor manufacturing locations
Facility
Location
Business
Established
Harima Plant
Harima-cho,
Kako-gun, Hyogo,
Japan
Manufacture of standard compressors
1973
Kobelco Compressors
Manufacturing Indiana, Inc.
Elkhart, Indiana, USA
Manufacture and sale of standard and nonstandard compressors
1988
Kobelco Compressors Manufacturing (Shanghai) Corporation
Shanghai, China
Manufacture and sale of standard compressors
2004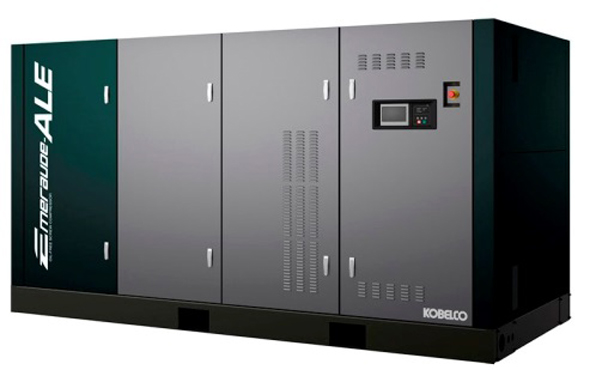 (Note) The information on this web site is presented "as is." Product availability, organization, and other content may differ from the time the information was originally posted. Changes may take place without notice.