Kobe Steel, Ltd.

TOKYO (February 22, 2017) — Kobe Steel, Ltd. announces that it has started marketing from this month the HyAC mini-A, an all-in-one, compact compressor package for stationary hydrogen refueling stations designed for use in the United States.
The HyAC mini-A consists of a high-pressure hydrogen compressor and a refrigerator sold together with a high-pressure storage tank unit and a dispenser as a set. The HyAC mini-A has a footprint 10 percent smaller than the HyAC mini sold in Japan since 2014.
Kobe Steel is the first Japanese manufacturer to sell hydrogen compressors and other associated equipment for hydrogen refueling stations overseas. The company is working in cooperation with California-based Kobelco Compressors America, Inc., a compressor subsidiary, to expand sales.
The United States is making progress on building a hydrogen infrastructure. California has opened 25 retail hydrogen refueling stations and plans to establish over 100 stations by 2024, according to the California Energy Commission.
Kobe Steel has supplied about 30 percent of the Japanese market for stationary hydrogen refueling stations with the HyAC series. Launched in 2014, the HyAC series consists of two models: a single-unit, high-pressure hydrogen compressor, named HyAC, and a compact package consisting of the hydrogen compressor and other major equipment called the HyAC mini.
Owing to its success in Japan, Kobe Steel developed a new model, the HyAC mini-A, for sale in the United States. The HyAC mini-A comes with a dispenser made by Tatsuno Corporation, Japan's largest manufacturer of this product. This enables Kobe Steel to provide equipment from hydrogen compression to fueling FCVs, simplifying the need for customers to procure components separately and reducing onsite adjustment work.
As hydrogen refueling stations are often located in urban areas or on small sites, there is a strong need for compactness. For the U.S. market, Kobe Steel redesigned the layout of the HyAC mini-A to achieve a footprint 10 percent smaller than the Japanese model.
To meet the U.S. fueling protocol, the filling pressure of the HyAC mini-A was raised to 87.5 MPa. The U.S. fueling protocol is a U.S. standard for temperature and pressure when fueling FCVs. The HyAC mini-A is also equipped with a remote monitoring system.
The HyAC mini-A includes compact micro channel heat exchangers called DCHE, which are renowned for their remarkably small size. Kobe Steel has supplied over 100 DCHE heat exchangers for use in domestic hydrogen refueling stations.
Enhancing product development to meet market needs, Kobe Steel established a comprehensive test center for hydrogen refueling stations in March 2016 at its Takasago Works in western Japan. The new facility tests a variety of operating patterns of the refueling stations at close to actual operation and verifies fueling simulations.
Moreover, group company Shinko Engineering & Maintenance Co., Ltd. has developed simulation technology for selecting optimal equipment specifications for fueling FCVs with hydrogen. The Kobe Steel Group is building a framework that can supply items necessary for the construction of hydrogen refueling stations.
Specifications of the HyAC mini-A
| | |
| --- | --- |
| Filling pressure: | 87.5 MPa |
| Filling method: | Cascade filling that meets SAE J2601 fueling protocol |
| Compressor capacity (hydrogen supply capacity): | 340 Nm3/h |
| High pressure storage tank unit: | 87.5 MPa (composite reinforced pressure vessels) |
| Refrigerator (for pre-cooler): | Cooling by liquid brine |
Additional notes
Kobe Steel plans to introduce the HyAC mini-A at FC EXPO 2017, the 13th International Hydrogen & Fuel Cell Expo, to be held on March 1-3, 2017. Please visit the Kobe Steel booth for more details.
Outline of FC EXPO 2017
Dates:

March 1 (Wednesday) – March 3 (Friday), 2017
Venue:

Tokyo Big Site, Tokyo, Japan
Organizer:

Reed Exhibitions Japan Ltd.
Co-organizers:

Hydrogen Energy Systems Society of Japan (HESS)
Fuel Cell Development Information Center (FCDIC)
Entrance fee:

Free (invitation ticket required)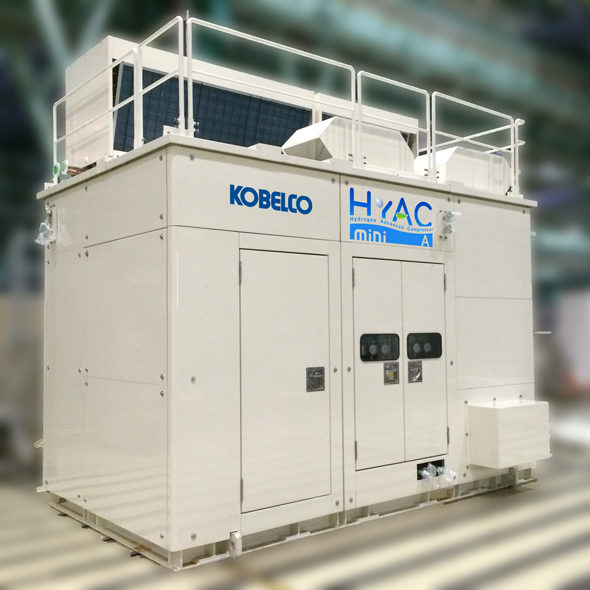 Kobe Steel's HyAC mini-A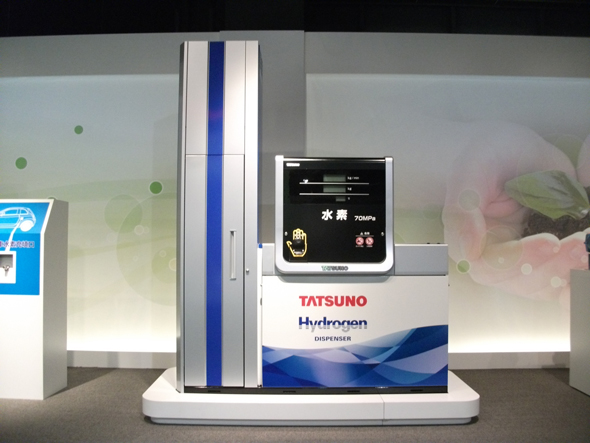 Tatsuno's dispenser
(Note) The information on this web site is presented "as is." Product availability, organization, and other content may differ from the time the information was originally posted. Changes may take place without notice.