Kobe Steel, Ltd.

Kobe Steel, Ltd. has established a company in the Philippines to dispatch supervisors and provide engineering services for its nonstandard compressor business. Called Kobelco Machinery Philippines Inc. (or KMP), the new company has opened and is now in full operation.
KMP is headquartered in Makati City, Metro Manila and employs 21 people. It is a wholly owned subsidiary of Kobelco Machinery Asia Pte. Ltd. in Singapore, which in turn is 100 percent held by Kobe Steel.
The new company provides an optimal framework for supervisor dispatch services and engineering work for Kobe Steel's nonstandard compressor business in the region. Supervisors are in charge of the installation, commissioning and after-sales service of nonstandard compressors, or custom-engineered compressors.
Through KMP, Kobe Steel can further grow its nonstandard compressor business and strengthen its supervisor dispatch services. Kobe Steel has increased the number of supervisors in Japan (Takasago Works), the United States (California) and China (Wuxi). The Philippines is now the fourth country where Kobe Steel has local supervisors. By increasing staff and improving their mobility, Kobe Steel aims to increase orders for compressors and after-sales service in the region.
In addition, KMP enables Kobe Steel to optimize its engineering work. Kobe Steel can transfer work currently undertaken at Takasago Works in Japan to KMP and also divide some of the work between the two locations. This framework enables Kobe Steel to choose the best location to carry out engineering work and meet the requirements of its customers. Engineering work covers the design of OEM parts and arrangements for their procurement.
As one of the world's leading manufacturers of compressors, Kobe Steel plans to expand its services in the region through KMP in the Philippines and set down roots in areas of demand to grow its global business.
Background information
Under its medium-term management plan launched last year, Kobe Steel is expanding its compressor business as a growth strategy of its machinery-related businesses. In fiscal 2020, Kobe Steel aims to achieve compressor sales of 130 billion yen, an increase of more than 40 percent compared with fiscal 2016. To achieve this goal, Kobe Steel plans to make further inroads in the estimated 1-trillion-yen world market for nonstandard compressors.
In April, it opened a large-capacity 40 MW compressor test facility. Furthermore, Kobe Steel is responding to the global market by reinforcing its supervisory functions involving after-sales service. It is increasing the amount of its design work, while lowering design costs. Kobe Steel is also appointing local staff to provide onsite engineering services.
Profile of Kobelco Machinery Philippines Inc.
Name:

Kobelco Machinery Philippines Inc.
Location:

Makati City, Metro Manila, Philippines
Capital:

43 million Philippine pesos (about 100 million yen)
Ownership:

100% owned by Kobelco Machinery Asia Pte. Ltd. (Singapore-based subsidiary 100% owned by Kobe Steel)
Established:

February 2017
President:

Miyoshi Sagesaka
Employees:

21 (including three Japanese)
Business:

Engineering (design of OEM parts and arrangements for their procurement) and supervisor dispatch services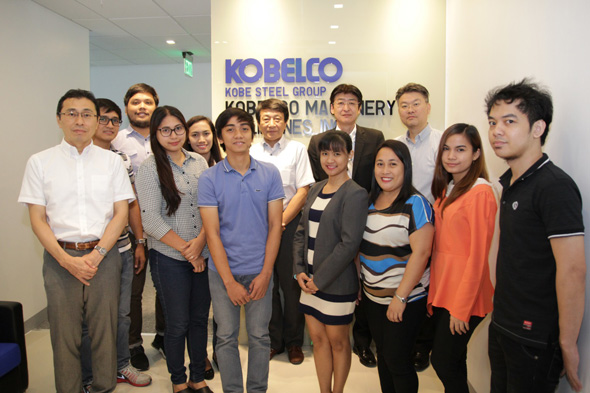 (Note) The information on this web site is presented "as is." Product availability, organization, and other content may differ from the time the information was originally posted. Changes may take place without notice.