Kobe Steel, Ltd.

TOKYO, September 26, 2017 — Kobe Steel, Ltd. and United States Steel Corporation announced that they have reached agreement for their joint venture, PRO-TEC Coating Company, in Leipsic, Ohio to begin construction of a new continuous galvanizing line in response to growing demand for automotive high-strength steel sheet in North America. Construction is expected to begin shortly with commercial operation to begin in July 2019. The new line, an investment of approximately $400 million, will have a production capacity of 500,000 short tons per year.
North America is the world's second largest automotive market. As CAFE standards1regulating fuel efficiency become stricter, car bodies need to become lighter. Consequently, demand for galvanized high-strength steel used in the car body structure is anticipated to increase in the future.
Automotive high-strength steel needs to be both strong and have high formability for use in a growing number of applicable parts. To produce new steel products that meet these needs, Kobe Steel and U.S. Steel decided to add a third continuous galvanizing line (CGL) at PRO-TEC. The new line will be equipped with cutting-edge heating and quenching capabilities to enable the production of high-formability, ultra high-strength steel with a tensile strength of 780 MPa and higher. Following the start-up of the new line in 2019, PRO-TEC will be able to supply ultra high-strength hot-dipped galvanized steel with high formability.
PRO-TEC is an equal partnership joint venture of Kobe Steel and U.S. Steel that began operation in 1993. With a total production capacity of 1.5 million short tons, PRO-TEC is one of the largest facilities of its kind in the United States. PRO-TEC currently supplies its high-quality steel sheet products mainly to Japanese automakers in the U.S. and the Detroit Three automakers. Customers have given PRO-TEC high marks for its quality products and supply capability.
Kobe Steel has established a global supply network for automotive high-strength steel in three locations: Kakogawa Works in Japan, PRO-TEC in the U.S., and Kobelco Angang Auto Steel Co., Ltd. in China. By producing and supplying high-strength steel products of outstanding quality, Kobe Steel contributes to weight savings in automobiles, leading to higher fuel efficiency and lower CO2 emissions.
Background Information
Outline of Facility Expansion
Investment amount:

Approximately $400 million2 (About 44.0 billion yen)
Production capacity:

500,000 short tons per year
Start-up:

July 2019
Main product:

Hot-dipped galvanized ultra high-strength steel for automotive use
1.

CAFE standards: Abbreviation of Corporate Average Fuel Economy. Cars are required to meet certain standards of fuel consumption. If they do not meet the standards, the automotive manufacturer must pay a penalty.

2.

PRO-TEC has obtained third party financing for the project.
Outline of PRO-TEC Coating Company
President:

Richard E. Veitch
Location:

Leipsic, Ohio, USA
Established:

1990
Ownership:

Kobe Steel 50%, U.S. Steel 50%
Employees:

About 300
Production capacity:

1,500,000 short tons (2,000,000 short tons after expansion)
Start-up of equipment:

May1993

No. 1 hot-dipped galvanizing line (600,000 short tons/year)

November 1998

No. 2 hot-dipped galvanized line (400,000 short tons/ year)

May 2013

Continuous annealing line (500,000 short tons/year)
Outline of United States Steel Corporation
President & Chief Executive Officer:

David B. Burritt
Headquarters:

Pittsburgh, Pennsylvania, USA
Established:

1901
Employees:

About 29,800 (at the end of December 2016)
Main locations:

United States
Slovak Republic (EU)
About Kobe Steel
Kobe Steel, Ltd. is a diversified company with businesses in the three core areas of materials, machinery and electric power. The materials businesses include iron and steel, welding, and aluminum and copper. The machinery businesses consist of industrial machinery, construction machinery and engineering. Electric power supply is the third core business. Kobe Steel has head offices in Kobe and Tokyo, Japan.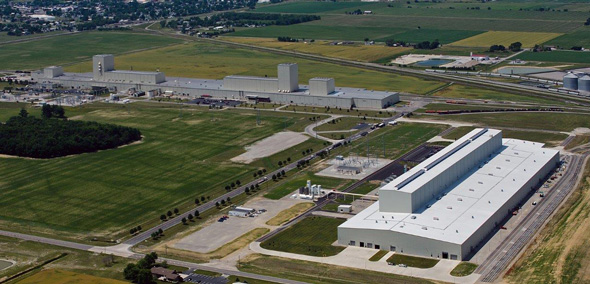 PRO-TEC Coating Company
(Note) The information on this web site is presented "as is." Product availability, organization, and other content may differ from the time the information was originally posted. Changes may take place without notice.