Kobe Steel, Ltd.

TOKYO, September 29, 2017 — Kobe Steel, Ltd. and Novelis Korea Limited completed arrangements today to establish a joint venture called Ulsan Aluminum, Ltd. to produce aluminum rolled products in Ulsan, South Korea.
Kobe Steel and Novelis Korea announced on May 10, 2017 their agreement to establish the joint venture. Since then, they have been working to set up the new company and complete the necessary arrangements. Today, all arrangements have been completed and the deal has closed.
Plans call for Ulsan Aluminum to provide Kobe Steel with a stable supply of cold-rolled aluminum. This will enable Kobe Steel to continue enhancing its current core businesses of can stock, disks and other aluminum products. Kobe Steel will also be able to further grow its aluminum sheet business to meet the growing demand for automotive closure panels in the expanding Asian market.
Due to stricter environmental regulations worldwide, automobile manufacturers are rapidly moving to make cars lighter. Accordingly, demand for automotive closure panels made out of aluminum is anticipated to further increase.
Outline of the joint venture
Company name:

Ulsan Aluminum, Ltd.
President & CEO:

Jerry Quick
Established:

September 29, 2017 (date of equity participation by Kobe Steel)
Business:

Production of aluminum rolled products
Location:

Ulsan, South Korea
Investment ratio:

Kobe Steel 50%, Novelis Korea 50%
Production capacity:

Approximately 300,000 tons per year
(Kobe Steel has offtake rights to receive up to 50% of the capacity.)
Main equipment:

Melting and casting line, hot rolling line, cold rolling equipment, other
Employees:

About 600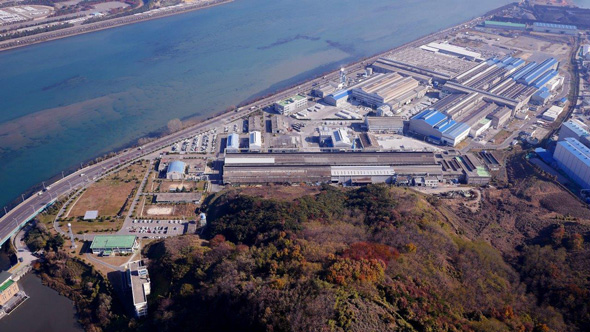 (Note) The information on this web site is presented "as is." Product availability, organization, and other content may differ from the time the information was originally posted. Changes may take place without notice.