Kobe Steel, Ltd.

TOKYO, August 28, 2019 — Kobe Steel, Ltd. has developed galvanized steel sheet (1500 MPa class after hardening) for hot stamping with outstanding productivity during pressing. It has begun mass production of the coated steel sheet for use in automotive body frame parts.

In 2017, Kobe Steel developed cold-rolled steel sheet for high-productivity hot stamping and began mass production. In comparison to conventional cold-rolled steel sheet for hot stamping, Kobe Steel's material has improved hardenability. Productivity during pressing by the customer has improved as much as six times, compared with conventional hot stamping steel sheet. The cold-rolled steel sheet is noted for its lower occurrence of strength deficiency from uneven quenching. Moreover, it offers greater flexibility in pressed part shapes. As the cold-rolled steel sheet can be trimmed during the pressing process, laser cutting after pressing, which is traditionally required in the conventional process, is unnecessary. Kobe Steel has received high acclaim from customers for this product.

Kobe Steel has subsequently developed cold-rolled steel sheet treated with a galvanized coating for hot stamping. In addition to having the same characteristics as cold-rolled steel sheet, the new galvanized steel sheet offers corrosion resistance. This makes it possible to expand the use of the coated steel sheet in automotive parts.

Now in mass production, the coated steel sheet is supplied to Spain's Gestamp, a manufacturer of automotive metal components. Gestamp processes the coated steel sheet into parts for supply to a European car manufacturer. This is the first time that this coated steel sheet for hot stamping has been used by a European car manufacturer.

Adding galvanized steel sheet for high-productivity hot stamping to its product lineup, Kobe Steel also offers its distinctive high-workability, ultra high-strength steel sheets with tensile strengths of 780 MPa and higher, and cold-rolled steel sheet for high-productivity hot stamping, Through these products, Kobe Steel aims to meet customer needs to reduce the weight of cars as CO2 emission regulations grow stricter year by year, while improving the strength of car bodies to meet stronger collision safety regulations in Japan, the United States and Europe.
About Gestamp
Gestamp is a multinational specialized in the design, development and manufacture of highly engineered metal components for top vehicle manufacturers. It develops products with an innovative design to produce lighter and safer vehicles, which offer improved energy consumption and a reduced environmental impact. Its products cover the areas of body-in-white, chassis and mechanisms.

The company is present in 22 countries with 110 manufacturing plants and two under construction, 13 R&D centers and a workforce of more than 43,000 employees worldwide. Its turnover was €8,548m in 2018. Gestamp is listed on the Spanish stock market under the GEST ticker.
About Kobe Steel
Kobe Steel, Ltd. is a diversified corporation with businesses in the three core areas of materials, machinery and electric power. The materials businesses include steel, welding, aluminum and copper. The machinery businesses consist of industrial machinery, construction machinery and engineering. Electric power supply is the third core business. Kobe Steel has head offices in Kobe and Tokyo, Japan. The Kobe Steel Group, consisting of Kobe Steel and its numerous subsidiaries and affiliates, has over 39,000 employees.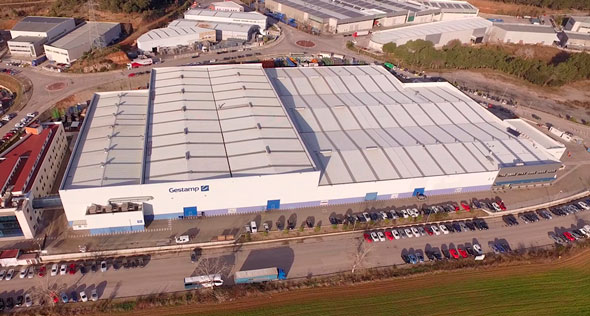 (Note) The information on this web site is presented "as is." Product availability, organization, and other content may differ from the time the information was originally posted. Changes may take place without notice.