Home > Press Releases > 2006 > Kobe Steel to boost compressor production in the U.S.
Press Releases
The information on this Web site is presented "as is." Product availability, organization, and other content may differ from the time the information was originally posted. Changes may take place without notice.

Kobe Steel to boost compressor production in the U.S.
Manufacturing capacity to more than double in 2007
April 18, 2006

TOKYO, April 18, 2006 - Kobe Steel, Ltd. announces that it plans to invest $4.6 million to build a second compressor plant at its subsidiary, KOBELCO EDTI Compressors, Inc., in the United States. When the new facility is completed, production capacity is anticipated to increase 2.5 fold. Kobe Steel will also upgrade the current manufacturing plant.
In February, Kobe Steel increased its equity share in Corona, California-based Engineering Designs Transfer, Inc. (EDTI) to 92.5%, from 50%, and renamed the company KOBELCO EDTI Compressors, Inc. (KEC). KEC is Kobe Steel's first business unit in the United States for non-standard screw compressors. KEC specializes in designing and manufacturing compression systems for the oil, gas and petrochemical industries. The systems utilize process gas compressors supplied by Kobe Steel.
As a result of rising crude oil prices and demand for environmental equipment, investments are strong for new plants and expansions for natural gas power generation, oil refining, gas separation, offshore oil fields and LNG. Kobe Steel has been experiencing an unprecedented number of inquiries for its high-performance compression systems. To meet the growing demand in the North American market, Kobe Steel plans to increase its production capacity by the end of 2006.
Construction of KEC's new plant is to begin in May, with start-up of operations in December 2006. The expansion is also expected to increase employment to 170 people by the end of December 2007. In 2005, EDTI had 114 employees.
"The new facility will more than double our manufacturing capabilities," said Takao Ohama, president of KEC. "Built to the highest standards, our compression systems will be able to meet the growing market in the United States, Canada, Mexico and South America."
Kobe Steel manufactures the non-standard screw compressors, the heart of the compression systems, in Japan. KEC assembles the screw compressors and other essential components into finished compression systems. The systems are utilized in power generation by natural gas, refinery, petrochemical processing, and gas separation applications.
With KEC's expanded capacity, Kobe Steel forecasts that its consolidated North American orders for process gas compressors in 2007 will grow to $60 million. In comparison, orders between 2002 and 2005 averaged $30 million per year. By 2008, consolidated North American sales are anticipated to rise to $64 million in 2008.
About KOBELCO EDTI Compressors (KEC)
Since its inception in 1989, EDTI has specialized in compression systems for heavy industrial applications utilizing screw compressors in most cases. KEC, however, is aiming to be a world leader in the application of rotary screw compressor technology. Major offerings are gas compression systems for the gas separation, petrochemical and refinery fields; gas turbine booster compressors for the power generation field; refrigeration systems; heat exchangers; pressure vessels and oil separation systems. KEC is based in Corona, California. More information is available at: www.kobelcoedti.com
About Kobe Steel
Kobe Steel, Ltd. manufactures screw, centrifugal and reciprocating compressors - the only company in the world that produces all three types of compressors. In addition, it is the only company with a compressor capable of handling 100 Bar pressure. Kobe Steel has an estimated 30% share of the world market for screw compressors and leads the industry with its outstanding technical expertise.
In addition to a wide array of industrial machinery and engineering services, Kobe Steel is one of the leading steelmakers and producers of aluminum and copper products in Japan. Other businesses include wholesale power supply, construction machinery, real estate, and electronic materials. For more information on Kobe Steel, please visit: www.kobelco.co.jp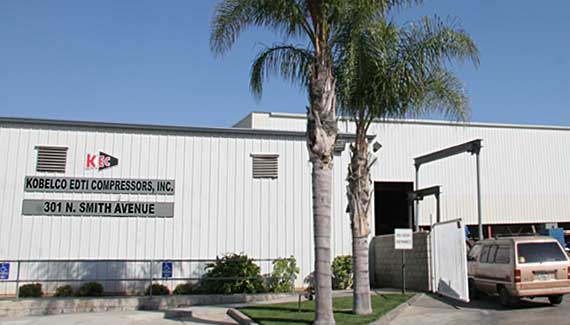 KOBELCO EDTI Compressors in Corona, California