Home > Press Releases > 2009 > Chengdu Kobelco doubles production capacity of excavators
Press Releases
The information on this Web site is presented "as is." Product availability, organization, and other content may differ from the time the information was originally posted. Changes may take place without notice.

Chengdu Kobelco doubles production capacity of excavators
Introduces new models for manufacture in 2010
December 24, 2009

Kobelco Construction Machinery Co., Ltd., a group company of Kobe Steel, Ltd., has doubled the production capacity of hydraulic excavators at its new, relocated factory in Chengdu, Sichuan Province, China.

In September 1994, Kobelco established a joint venture called Chengdu Kobelco Construction Machinery Co., Ltd. (CKCM) in China. Over the past 15 years, CKCM has grown remarkably. Aiming for further growth in the next 15 years, CKCM has relocated production in Chengdu to a new site about a 20-minute drive away from its original location.

Production capacity of excavators has doubled from 2,500 units per year in 2008 to the current 5,000 units per year. Mini excavator production capacity has increased 20 percent from 2,000 units in 2008 to the current 2,400 units per year. From January 2010, CKCM anticipates the new factory will be in full production.

Kobelco enlarged the size of the land and buildings five-fold, which will enable it to quickly meet future increases in demand for construction equipment.

Kobelco has a second center for excavator production in Hangzhou, Zhejiang Province near the coast called Hangzhou Kobelco Construction Machinery Co., Ltd. Together, the Chengdu and Hangzhou operations have raised Kobelco's capacity to 12,000 units per year, providing a solid base to meet the growing Chinese market in the future.

New Models for Manufacture

CKCM has until now manufactured mainly medium-size 20- and 25-ton class excavators. Its largest machine had been a 35-tonne-class excavator. With the new factory, CKCM now plans to add 46- and 48-tonne-class excavators to its menu. Production of these large excavators is to start in January 2010.

Coinciding with the relocation, on October 1 Kobelco merged mini excavator production at Chengdu Kobelco Mini Excavator Co., Ltd. (or CKME) into CKCM. Production of both mini excavators and excavators are now being undertaken at two plants located on the same property. In addition to its current menu of 5- and 6-tonne-class machines, CKCM will manufacture 7-tonne-class mini excavators.

In the future, new products will gradually be added to meet market demand.

By the end of 2010, Chengdu Kobelco Construction Machinery (Group) Co., Ltd., the company in China that oversees marketing and servicing, plans to complete the relocation to the new factory.

To mark the completion and start-up of the expanded Chengdu factory, a dedication ceremony was held on December 23 at the new facility.

Attending the ceremony were officials from Sichuan Province and Chengdu; the Consul General of Japan at Chongqing; the chairman of the China Construction Machinery Association (CCMA); and numerous distributors. From Japan, Hiroshi Sato, President & CEO of Kobe Steel, and Shigeto Kotani, President of Kobelco Construction Machinery, attended the event. A total of 1,600 people participated in the opening, including 700 invited guests.

"Fifteen years have passed since the formation of our China-Japan joint venture, and the ties between our two countries based on mutual trust have grown even stronger," said Kobe Steel President & CEO Hiroshi Sato at the dedication ceremony.

"One of the world's leading manufacturing facilities has been completed, and all conditions are now set to enable us to move forward," said Sato. "This factory will be imbued with the Kobe Steel Group's principles of 'quality-first' and 'customer-first.' We aim to achieve top reliability and evaluation in the market and will place our full efforts into achieving these goals."

Total investment in the new facility amounted to 850 million yuan (about 11.6 billion yen) and includes the cost of the relocation, land, buildings and equipment. Kobelco received compensation funding and other incentives for the relocation.

In December 2007, Kobelco signed an agreement with the Chengdu municipal government to relocate its plants. The Chengdu municipal government has recognized CKCM as a company that will become a "10-billion-yuan enterprise."


Profile of the New Relocated Factory

| | |
| --- | --- |
| Company name: | Chengdu Kobelco Construction Machinery Co., Ltd. |
| Established: | September 1994 |
| Production capacity of excavators: | 5,000 units/year (2,500 units/year in 2008) |
| Land area: | 258,000 sq m (52,000 sq m in 2008) |
| Production capacity of mini excavators: | 2,400 units/year (2,000 units/year in 2008) |
| Land area: | 60,000 sq m (4,900 sq m in 2008) |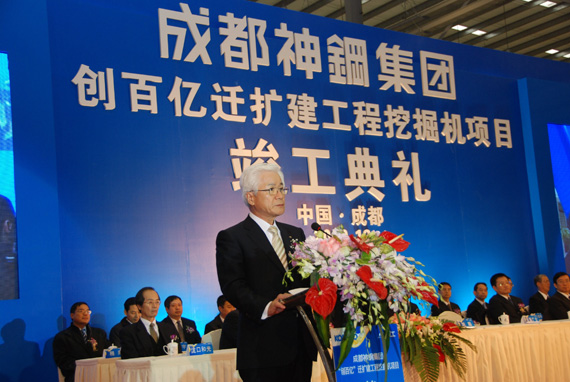 Kobe Steel President & CEO Hiroshi Sato at the inauguration ceremony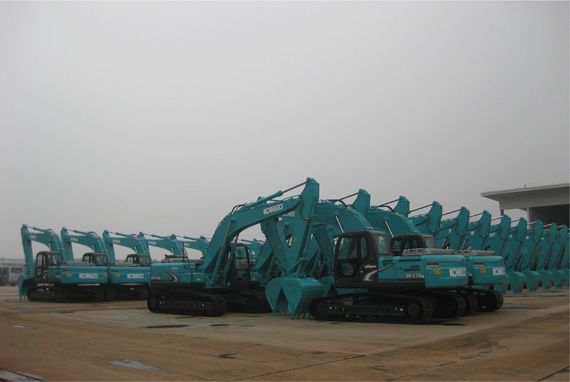 Kobelco excavators at the new factory ready for shipment