Home > Press Releases > 2012 > Kobe Steel to produce cast aluminum bars in the U.S. for use in car air conditioning compressor parts
Press Releases
The information on this Web site is presented "as is." Product availability, organization, and other content may differ from the time the information was originally posted. Changes may take place without notice.

Kobe Steel to produce cast aluminum bars in the U.S. for use in car air conditioning compressor parts
November 21, 2012

TOKYO, November 21, 2012 - Kobe Steel, Ltd. announces that its U.S. subsidiary, Kobe Aluminum Automotive Products, LLC (or KAAP), is constructing a new production line to produce cast aluminum bars for use in car air conditioning compressor parts.
KAAP will invest approximately $11 million in the new line, which will go into operation in August 2013. Located in Bowling Green, Kentucky, KAAP currently manufactures aluminum forgings for automotive suspensions.
In Japan, Kobe Steel makes cast aluminum bars for air conditioning compressors at its Chofu Works in Shimonoseki, Yamaguchi Prefecture in western Japan. The cast bars are supplied to Toyota Industries Corporation. Toyota Industries has established a company in the United States called Toyota Industries Compressor Parts America Co. to manufacture car air conditioning compressor parts. Established in February 2012 in Pendergrass, Georgia, the company will begin production in September 2013 and will source all of its cast aluminum bars from KAAP.
KAAP is constructing a new building covering about 39,000 square feet (3,600 square meters) adjacent to its existing facility. KAAP will install a melting furnace, holding furnace, horizontal casting line, homogenizing furnace, roll straightener, and peeling and inspection line. The new plant will have a production capacity of 4,000 metric tons per year. Start-up is scheduled for August 2013. KAAP plans to hire 15 people to run the new facility.
A ribbon cutting ceremony was held at the plant site on November 20 to mark the start of equipment installation for the new plant. About 100 people participated in the ceremony attended by Kentucky Governor Steve Beshear; Consul General Motohiko Kato of the Japanese Consulate in Nashville; Warren County Judge-Executive Michael Buchanon; Bowling Green Mayor Bruce Wilkerson; and other local officials.
"This new plant would not be possible without the support of the Commonwealth of Kentucky and the city of Bowling Green and the dedication of our employees," said KAAP President Sam Koike. "We are grateful to you all," he said at the ceremony.
"KAAP's new investment will help address the growing demand in North America for cast aluminum bars and demonstrates our commitment to supporting our customers globally," said Koike.
Profile of Kobe Aluminum Automotive Products

Kobe Aluminum Automotive Products, LLC manufactures aluminum forgings used in automotive suspensions. Established in May 2003, KAAP is based in Bowling Green, Kentucky, USA. The company is 60 percent owned by Kobe Steel. Mitsui & Co., Ltd. has a 25-percent equity and Toyota Tsusho Corporation holds the remaining 15 percent. KAAP is capitalized at $24 million. Headed by President Susumu "Sam" Koike, KAAP employs approximately 230 people.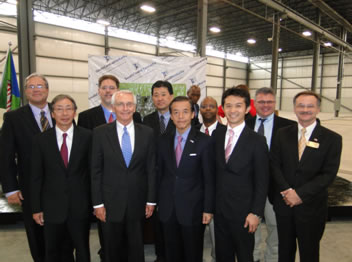 Main guests and KAAP officials

Back left: Warren County Judge-Executive Michael Buchanon
From front left: KAAP President Sam Koike, Kentucky Governor Steve Beshear and
Consul General Motohiko Kato
At far right: Bowling Green Mayor Bruce Wilkerson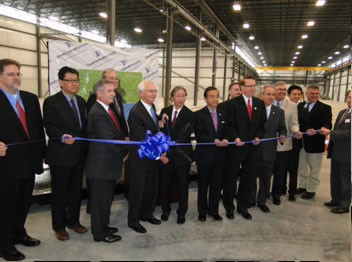 Ribbon cutting ceremony