Home > Press Releases > 2013 > Kobe Steel moving to new Kobe head office building
Press Releases
The information on this Web site is presented "as is." Product availability, organization, and other content may differ from the time the information was originally posted. Changes may take place without notice.

Kobe Steel moving to new Kobe head office building
March 6, 2013

Kobe Steel, Ltd. is moving to a new head office building in Kobe in March. The new building is located in HAT Kobe, a redeveloped area east of the city center of Kobe.
Some departments have already moved and have been operating at the new location since March 4. By April 1 the relocation will be completed, and Kobe Steel and a number of group companies will all be open for business at the new building.
A completion ceremony was held today at 10:00 am at the new head office building, starting with a cornerstone laying, commemorative tree planting and Shinto ritual. These were followed by a tour of the head office and a reception.
Approximately 100 people from Kobe Steel, Shinko Real Estate Co., Ltd., a subsidiary, and Obayashi Corporation, the construction contractor, attended the event. Participating in the ceremony were Hyogo Prefecture Governor Toshizo Ido, Kobe Mayor Tatsuo Yada, and other officials.
The old head office consisted of the Shinko Building constructed in 1986 and the Shinko Building Annex built in 1996. With the lease expiring in March 2013, Kobe Steel decided to build a new head office building. Shinko Real Estate undertook the project on land owned by Kobe Steel in the HAT Kobe area.
The new building includes Kobe Steel group companies. By gathering the group companies under one roof, the information and knowledge held by individual companies can be shared and combined.
In addition, the new building will contribute to reducing costs over the medium-and long-term future. Making use of the latest design concepts, the new head office building incorporates stronger disaster prevention measures and contributes to environmental conservation.
Outline of the New Kobe Head Office Building

Location

2-4, Wakinohama-Kaigandori 2-chome, Chuo-ku, Kobe

Land area

6,700 sq m

Building size

9 floors, about 50 m high

Total floor area

23,000 sq m

Total construction cost

About 6 billion yen

Construction period

December 2011 – February 2013 (1 year, 3 months)

No. of companies

13 (includes Kobe Steel, group companies, other)

Total no. of employees

1,400
Note: Kobe Steel has a long-term lease for the building through Shinko Real Estate.
1.New Kobe head office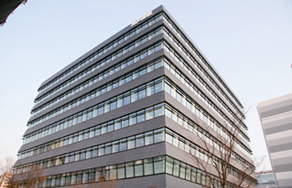 2.Lobby on the first floor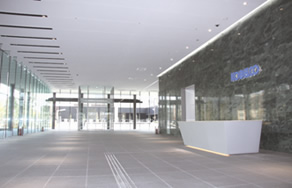 3.Pillar-less office space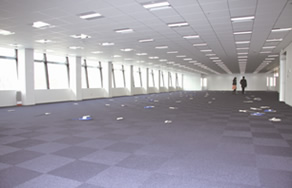 4.Employee cafeteria