Home > Press Releases > 2013 > Kobe Steel begins marketing of improved ALJADE™ aluminum alloy plate for precision machining
Press Releases
The information on this Web site is presented "as is." Product availability, organization, and other content may differ from the time the information was originally posted. Changes may take place without notice.

Kobe Steel begins marketing of improved ALJADE™ aluminum alloy plate for precision machining
June 18, 2013

Kobe Steel, Ltd. announces that in June it started marketing ALJADE™, a new improved version of its 5052 aluminum alloy plate for precision machining. Following on from ALJADE™-II, Kobe Steel decided to simplify the name and call the improved product ALJADE™, instead of ALJADE ™-III.
The new ALJADE™ is being sold by distributors in Japan and other Asian countries for use in semiconductor manufacturing equipment, LCD manufacturing equipment, photovoltaic panel manufacturing equipment, robots and precision machinery.
In these applications for precision aluminum plate, maintaining dimensional accuracy and raising productivity are becoming increasing important. Customers are requiring aluminum plate with better surface quality, dimensional tolerances and flatness, while seeking lower internal residual stress.
A major enhancement in the new ALJADE™ is significantly improved flatness compared with conventional ALJADE™. This feature contributes to improved processing yield by reducing the amount of machining and processing time. This contributes to reducing the total cost for customers.
In terms of thickness accuracy, conventional ALJADE ™ has a thickness ranging from 4 ㎜ to 50 ㎜. The new ALJADE™ ranges from 4 ㎜ to 100 ㎜. This meets the need for a wider range of high-precision needs.
Also, the design of the plastic wrapping to protect the surface of the aluminum plate has been improved to show the rolling direction.
Kobe Steel also supplies ALHIGHCE™, a super high-precision aluminum alloy plate; ALJADE™-83, a high-strength, high-precision aluminum plate; and ALHIGHCE™-83, a high-strength, super high-precision aluminum alloy plate. These products will use the same type of surface protection plastic sheet as ALJADE™, but will be differentiated by different colors of plastic wrappings. Together, they strengthen the marketing of Kobe Steel's line-up of aluminum plate products.
Kobe Steel intends to continue improving product quality and reducing total costs for customers, while advancing product development.
Features of new ALJADE™

1. Improved surface flatness

Thickness 4 - 50 ㎜

50% improvement over the previous ALJADE™
Previous ALJADE™: 0.4 ㎜ or less/M
New ALJADE™: 0.2 ㎜ or less/M

Thickness 50 - 100 ㎜

80% improvement over JIS standard
New ALJADE™: 0.6 – 0.8 ㎜/M
2. Improved thickness accuracy

(Ex.) Thickness: 25 ㎜

ALJADE™ ± 0.25 ㎜, JIS standard ± 0.90 ㎜
(Compared with JIS standard, a 75% improvement)
See the ALJADE™ brochure for more information.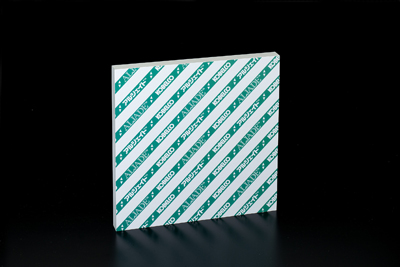 ALJADE™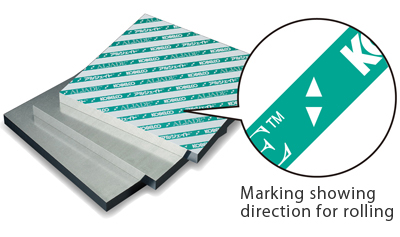 Example of marking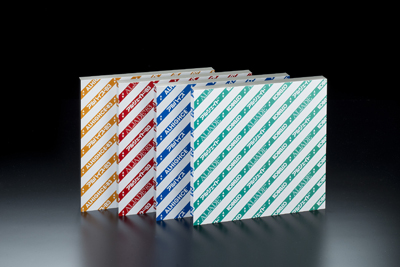 Line-up of four aluminum plate products