Home > Press Releases > 2013 > Shinwa Wood Works opens packing company in China
Press Releases
The information on this Web site is presented "as is." Product availability, organization, and other content may differ from the time the information was originally posted. Changes may take place without notice.

Shinwa Wood Works opens packing company in China
August 30, 2013

Kobe Steel group company Shinwa Wood Works, Ltd. held an opening ceremony on August 30 to mark the start of its packing company in China. Shinwa Wood Works (Wuxi) Co., Ltd. The new company began operations on July 1 in Wuxi, Jiangsu Province.
About 70 people participated in the ceremony held at Shinwa Wood Works (Wuxi) Co., Ltd. Attending the event were Kazuhide Naraki、a senior managing director at Kobe Steel; Ji,Kejian Director of the Wuxi New District Administrative Committee; and Fusaho Izumi, mayor of Akashi, Hyogo Prefecture. Akashi, where Shinwa Wood Works is based, and Wuxi are friendship cities.
The Kobe Steel Group has many group companies in the Wuxi area. These companies have been using local packing companies, but local packers have found it difficult to meet the transport conditions and the careful packing specifications required by Japanese customers. In addition, cases concerning quality issues and delivery problems have occasionally occurred.
From the extensive experience of carrying out packing work for the Kobe Steel Group, Shinwa Wood Works has acquired the techniques and know-how for packing construction equipment, industrial machinery, large-sized marine crankshafts and other products. Shinwa provides quality packing that takes into consideration the characteristics of each product. This background led to the establishment and start-up of the new company in China.
In addition to the Kobe Steel Group, the new company plans to actively promote its services to companies outside the Kobe Steel Group in and around the Wuxi area.
Outline of the New Company

Name:

Shinwa Wood Works (Wuxi) Co., Ltd.

Location:

Wuxi, Jiangsu Province, China

Chairman:

Fuminori Haraguchi

President:

Takaaki Tokunaga

Capitalization:

US$710,000

Established:

June 2013

Business:

Packing and wrapping of industrial machinery and precision equipment

Employees:

21 (19 Chinese and two Japanese)

Area of building:

Plant: 2,100 sq m, office: 250 sq m

Equipment:

Overhead traveling cranes (one 20-ton unit and two 10-ton units)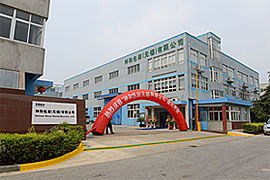 Shinwa`s packing factory in China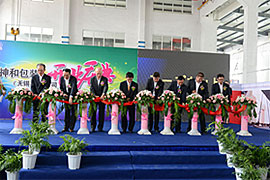 Opening ceremony