Home > Press Releases > 2013 > Kobe Steel's high corrosion-resistant steel KPAC-1 adopted for use in ship construction
Press Releases
The information on this Web site is presented "as is." Product availability, organization, and other content may differ from the time the information was originally posted. Changes may take place without notice.

Kobe Steel's high corrosion-resistant steel KPAC-1 adopted for use in ship construction
First application under new IMO standards for corrosion protection of oil tankers
November 19, 2013

Kobe Steel, Ltd. has developed a steel plate called KPAC-1 that meets the new standards of corrosion protection for tanks used in crude oil tankers. The steel has received approval from Japan's ship classification society, ClassNK, based on requirements implemented by the International Maritime Organization (IMO).
High corrosion-resistant steel KPAC-1 has been adopted for use in the bottom plates of a tanker currently being constructed under the new IMO standards at Shin Kurushima Dockyard Co., Ltd. This is the first time in the industry that corrosion-resistant steel has been adopted for use in a ship under the new regulations. Adjusting the chemical composition by changing the additive elements, Kobe Steel was able to make KPAC-1 with four times the corrosion resistance compared with conventional steel.
Vessel construction contracts dated on January 1, 2013 or later are subject to the new regulations that cover the cargo oil tanks (COT) of crude oil tankers. At the 87th session of the Maritime Safety Commission (MSC87) held in May 2010, the IMO adopted a resolution for amendments to the International Convention for the Safety of Life at Sea (SOLAS). New crude oil tankers of 5,000 dwt or higher are required to use corrosion-resistant steel in the bottom plates and strength deck of the cargo oil tank. The new regulations were enacted to prevent marine pollution from oil spills caused by corrosion problems in oil tankers.
The bottom of the cargo oil tanks has an environment that is conducive to corrosion due to the precipitation of brine in the crude oil. Until now, no regulations were in place to counter corrosion in cargo oil tanks. Major oil spills in recent years led to intense work to strength measures against corrosion, resulting in the new IMO regulations.
Kobe Steel's corrosion-resistant steel for COT bottom plates, KPAC-1, draws on the company's accumulated knowledge from basic research in corrosion-resistant steel that spans over 50 years. KPAC-1's composition design is optimally matched to the corrosive environment found in tanker bottoms. In concrete terms, adjusting the chemical composition by changing the additive elements led to excellent corrosion-resistant properties in the strong acid environment found in the bottom of tankers. KPAC-1 has outstanding qualities equal to or surpassing conventional steels in such areas as material properties required for hull construction, weldability and weld-joint quality.
The new steel is noted for the following benefits.
Improved safety: Even when used unpainted, KPAC-1's outstanding corrosion-resistant properties suppresses corrosion.
KPAC-1 reduces painting work during shipbuilding and construction time.
Lower running costs: Repainting and other maintenance and repair costs are unnecessary.
These outstanding qualities were recognized, and in April 2013 Kobe Steel received approval from ClassNK that KPAC-1 met the new rules for corrosion resistance. Kobe Steel is also working to gain approval from other ship societies. In addition to steel, approval under the new rules is necessary for the corrosion performance of the weld joints. Kobe Steel is working in close collaboration with the company's Welding Business to obtain approval for technical measures and welding materials.
KPAC-1 was developed in 2005, prior to the revision in the IMO regulations. Since 2006, the corrosion-resistant steel has been used in six tankers, a total of 5,000 metric tons. At periodic inspections during dry dock, follow-up testing has found that pitting has decreased significantly by as much as 1/100th. Results have also confirmed that maintenance and repairs are unnecessary to address pitting. When conventional steel is used, pitting is invariably found in periodic inspections, requiring repairs. A portion of these results will be presented tomorrow at the NACE International East Asia & Pacific Rim Area Conference & Expo 2013 in Kyoto.
Construction of tankers under the new regulations is anticipated to increase in the future. With this latest application of KPAC-1, Kobe Steel intends to expand the use of the KPAC series of corrosion-resistant steel for cargo oil tankers.
1. Cargo oil tank (COT)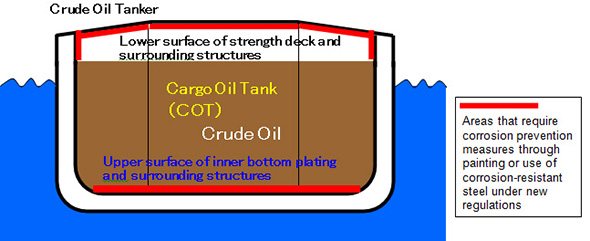 2. Reduction effect of pitting corrosion on bottom plates through use of KPAC-1

(Comparison of number of pits of 2 mm or deeper on bottom plates found in inspections 2.5 and 5 years after construction)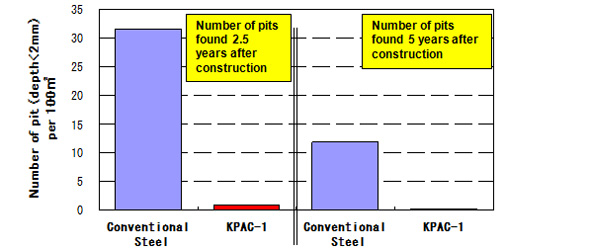 3. Pitting corrosion in tanker bottom plates and generation mechanism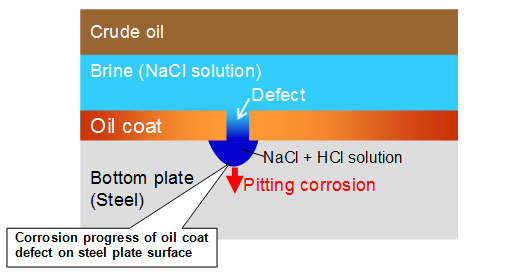 4. Mechanism of corrosion resistance improvement in KPAC-1