Home > Press Releases > 2014 > Kobe Steel to supply titanium forgings for main landing gears of Airbus A350 XWB planes
Press Releases
The information on this Web site is presented "as is." Product availability, organization, and other content may differ from the time the information was originally posted. Changes may take place without notice.

Kobe Steel to supply titanium forgings for main landing gears of Airbus A350 XWB planes
March 27, 2014

TOKYO, March 27, 2014 - Kobe Steel, Ltd. and Messier-Bugatti-Dowty (Safran Group) have signed a contract for Kobe Steel to supply the French company with titanium forgings for the main landing gears of the Airbus A350 XWB planes. Through the agreement, Kobe Steel will contribute to strengthening the supply chain for the next-generation wide-body A350 XWB program.
The main landing gear parts will be manufactured by Kobe Steel and its group company, Japan Aeroforge, Ltd., based in Kurashiki, Okayama Prefecture, Japan. Japan Aeroforge is a joint venture established in January 2011 by Kobe Steel and Hitachi Metals, Ltd. as the two major shareholders, along with several other companies. Equipped with a 50,000-ton hydraulic forging press, one of the largest in the world, Japan Aeroforge manufactures large titanium forgings for the growing aerospace industry worldwide.
Until the formation of Japan Aeroforge, Japan did not have production equipment to make large titanium forgings. Kobe Steel, through the agreement with Messier-Bugatti-Dowty, will be Japan's first supplier of large titanium forged parts.
Kobe Steel is Japan's leading integrated producer of commercially pure titanium and titanium alloy products. For more than 60 years, Kobe Steel has supplied titanium forgings, sheets and tubes to the aerospace and industrial sectors. Kobe Steel's attention to quality, process engineering and design technology acquired from its abundant supply record over the years and Japan Aeroforge's state-of-the-art forging facility will enable Kobe Steel to supply titanium forged products of outstanding quality to the aerospace industry.
The A350 XWB (Xtra Wide Body) is Airbus' all-new medium-size long-range product line comprising three versions that seat from 270 to 370 passengers. The new family of planes brings a 25 percent step-change in fuel efficiency compared with existing aircraft in this size category. At the end of February 2014, Airbus had won 824 orders for the A350 XWB from 40 customers worldwide. In October 2013, Japan Airlines Co., Ltd. (JAL) signed a purchase agreement for 31 A350 XWBs, plus options for a further 25 aircraft. JAL aims for entry into service from 2019.
Messier-Bugatti-Dowty (Safran) is the world leader in aircraft landing and braking systems. Company capabilities encompass the full life cycle of our products, ranging from design and manufacture to in-service support, repair and overhaul. Messier-Bugatti-Dowty is a partner to 30 leading commercial, military, business and regional airframers, and supports more than 24,000 aircraft making over 40,000 landings every day. The company employs 7,000 staff working in locations across Europe, North America and Asia. More information on Messier-Bugatti-Dowty is available at: http://www.safranmbd.com/
Japan Aeroforge, Ltd. is a Japanese joint venture established in January 2011 to mainly manufacture large titanium forgings for the aerospace industry. Based in Kurashiki, Okayama Prefecture, the company began operations in April 2013 and commenced mass production in October the same year.
Japan Aeroforge's two major shareholders are Hitachi Metals, Ltd. and Kobe Steel, Ltd., each holding 40.53%. Other companies with equity in the joint venture are IHI Corporation (5.41%), Kawasaki Heavy Industries, Ltd. (5.41%), Marubeni-Itochu Steel Inc. (5.41%) and Sojitz Aerospace Corporation (2.70%).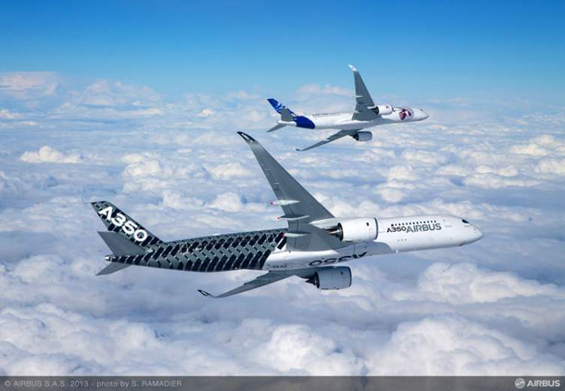 Photo courtesy of Airbus