Home > Press Releases > 2014 > Kobe Steel's compressor company opens in Brazil
Press Releases
The information on this Web site is presented "as is." Product availability, organization, and other content may differ from the time the information was originally posted. Changes may take place without notice.

Kobe Steel's compressor company opens in Brazil
June 12, 2014

TOKYO, June 12, 2014 - Kobe Steel, Ltd. announces that its subsidiary company, Kobelco Machinery do Brazil Ltda., has begun full-scale marketing of nonstandard compressors in the South America. Based in Sao Paulo, Kobelco Machinery do Brazil (KMB) is Kobe Steel's first location established in Brazil.
In recent years, Brazil has been vigorously pursuing marine resource development. High demand for gasoline, diesel and other fuels has led to the active construction of oil refining and petrochemical plants. As a result, demand for nonstandard compressors, which are used to compress and transport gases in oil and gas processing facilities, has been increasing.
Kobe Steel, also known as Kobelco, is one of the few comprehensive compressor manufacturers in the world that can supply centrifugal, reciprocating and screw compressors. Kobe Steel has a 50-percent share of the world market for nonstandard screw compressors, or custom-engineered process compressors. Kobe Steel has supplied nonstandard compressors throughout the world for use in oil refining, petrochemical, natural gas and other large-scale facilities.
In Brazil, Kobe Steel has a high supply record for screw compressors used in FPSO (Floating Production, Storage and Offloading) vessels. These ship-like facilities process oil and gas and store them onboard, after which they are transferred to tankers. Kobe Steel has also supplied numerous centrifugal and reciprocating compressors in South America, increasing the need for after-sales services in the region.
Established in November 2013, KMB has recently commenced full-scale marketing. By strengthening its marketing, sales and after-sales services, Kobe Steel aims to expand its compressor business in South America and further improve customer satisfaction.
In addition to nonstandard compressors, Kobe Steel's Machinery Business supplies a wide range of products such as small and medium-size standard compressors for plant utilities; plastic processing machinery; reactors (heavy-wall pressure vessels) for petrochemical and oil refining plants; tire and rubber machinery; and physical vapor deposition (PVD) equipment. Kobe Steel will consider whether to add these other machinery products to the menu of the new marketing company in the future.
Building a global marketing and service network for its nonstandard compressors, Kobe Steel has set up locations in China, Southeast Asia, the Middle East, North America and Europe. With the start of full-scale marketing in South America, Kobe Steel is able to cover the world's major markets. Improving the functions of each location will enable Kobe Steel to improve the global competitiveness of its nonstandard compressors.
Profile of Kobelco Machinery do Brazil Ltda.

Location:

Sao Paulo, Brazil

Capital:

1 million reais (about 50 million yen)

Equity shareholding:

Kobe Steel, Ltd. 99%, Kobe Steel Holdings Inc. 1%

Established:

November 2013

President:

Hidetoshi Sakane

Business:

Marketing and after-sales servicing of nonstandard compressors in South America
Other Overseas Locations for Nonstandard Compressors

| Company | Location | Business | Established |
| --- | --- | --- | --- |
| Kobelco Machinery Asia Pte. Ltd. | Singapore | Sale and servicing of standard compressors, nonstandard compressors and industrial machinery | January 1999 |
| Kobelco Compressors America, Inc. | Corona, California, USA | Manufacture and sale of nonstandard compressor systems | February 2006 |
| Wuxi Compressor Co., Ltd. | Wuxi, Jiangsu, China | Design, manufacture and sale of nonstandard compressors | April 2011 (Invested) |
| Kobelco Machinery Europe GmbH. | Munich, Germany | Sale of nonstandard compressors, parts procurement | July 2012 |
| Kobelco Machinery Middle East FZE. | Dubai, UAE | Servicing of nonstandard compressors | July 2012 |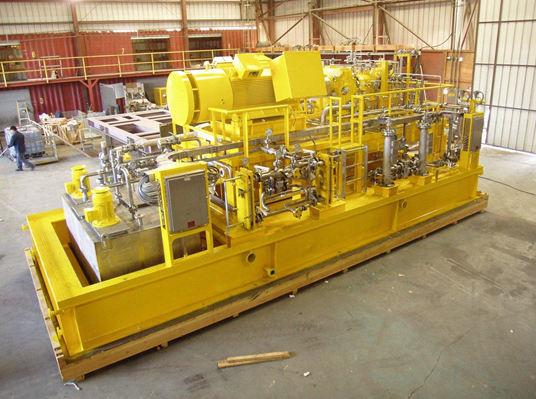 File photo of nonstandard screw compressor