Home > Press Releases > 2014 > Kobe Steel licenses tin plating technology for copper-alloy terminals and connectors to Germany's Wieland
Press Releases
The information on this Web site is presented "as is." Product availability, organization, and other content may differ from the time the information was originally posted. Changes may take place without notice.

Kobe Steel licenses tin plating technology for copper-alloy terminals and connectors to Germany's Wieland
September 10, 2014

TOKYO, September 10, 2014 — Kobe Steel, Ltd. announces that it has licensed Germany's Wieland-Werke AG to use its New Reflow Plating process on copper sheet and strip for terminals and connectors. Wieland is Europe's leading manufacturer of copper sheet and strip for these applications.
The arrangement with Wieland is not a first for Kobe Steel. In April 2009, Kobe Steel provided Wieland with a license to make its SuperKFC™ series of copper alloys for semiconductor leadframes. In November 2012, Kobe Steel licensed the Germany firm to produce its CAC™ 5 copper alloy for terminals and connectors.
For manufacturers, the latest licensing agreement will help establish a global supply network for copper alloys, especially for automotive applications. It also addresses customer needs to procure materials from multiple sources.
Kobe Steel already supplies Asia with this material, but the licensing arrangement with Wieland will enable Kobe Steel to expand its supply to two major world markets: Europe and the United States.
Terminals and connectors are connecting components that join electrical wires to electrical devices in cars. A connector contains many terminals. Depending on the application, the surface of the terminal is plated.
With cars using more electrical components in recent years, the number of terminals and connectors needed has been increasing. In contrast, joining the terminals and connectors to electrical components is done by hand during automobile assembly. This increases the burden on workers, leading to lower productivity during assembly.
In 2007, Kobe Steel developed a plating process called New Reflow Plating to meet the need for terminals with a low insertion force. In this plating process, the partial exposure of the hard copper-tin intermetallic compound, which forms between the copper alloy sheet and soft tin-plated surface, results in good slidability and low insertion force.
Depending on the shape of the connector, terminals and connectors with New Reflow Plating can have an insert reduction force 30 percent lower, in comparison to conventional reflow tin-plated terminals and connectors. Copper alloys with New Reflow Plating contribute to load reduction during connection work and improved productivity in the assembly process.
As electrical components become bigger, automotive terminals and connectors are becoming increasingly diversified. Kobe Steel anticipates that the use of the New Reflow Plating process will increase in the future due to the lower insertion force of terminals and connectors that undergo this innovative treatment process.
Through Wieland, Kobe Steel is expanding its global supply network of copper alloys as it aims to establish its products as world standards.
About Kobe Steel's New Reflow Plating Process

Reflow plating is a process by which the copper alloy sheet undergoes additional heat treatment after conventional tin plating. A disadvantage of tin plating is the formation of whiskers after plating. Whiskers are microscopic metal fibers than can cause short circuits between terminals. After it is plated with tin, the copper alloy sheet is heated to a temperature that melts the surface layer of the plating and is then cooled. This heat treatment suppresses the formation of whiskers.
Going a step further, Kobe Steel's New Reflow Plating process is designed to bring portions of the hard copper-tin intermetallic compound phase, which forms between the copper-alloy sheet and tin plating, to the surface of the sheet to achieve low insertion force.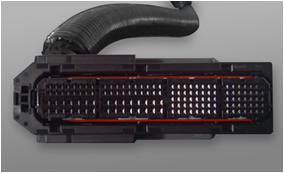 Fig. 1 Connector with terminals in center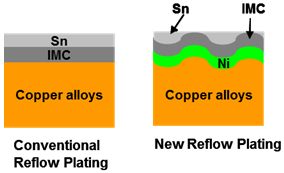 Fig. 2 Cross section of tin-plated copper alloy
(IMC: Copper-tin intermetallic compound)
Profile of Wieland-Werke AG

Location:

Ulm, Germany

Established:

1820

Production Locations:

13 locations (Europe, China, Singapore. South Africa, United States)

Employees:

Approximately 6,700 (at March 2013)

Sales volume:

449,000 metric tons (year ended March 2013)

Main products:

Copper rolled products, copper tubes, extruded and drawn products

Sales:

2,875 million euros
Kobe Steel's Copper Products Business

Kobe Steel produces copper rolled products at its Chofu Works in Shimonoseki, Yamaguchi Prefecture in western Japan. The company specializes in copper strips for automotive terminals and connectors and copper strips for semiconductor leadframes. Kobe Steel estimates that it has high domestic market shares in both product areas. Chofu's production capacity of copper sheet and strip is approximately 5,500 metric tons per month. Kobe Steel has developed over 70% of the copper alloys that it produces.
Kobe Steel has four other slitting operations that supply copper strips to the global market: Suzhou Kobe Copper Technology Co., Ltd. in Suzhou Industrial Park, Jiangsu Province, China; Kobe Electronics Material (Thailand) Co., Ltd. in Ayutthaya, Thailand; Shinko Leadmikk Co., Ltd. in Kita-Kyushu, Fukuoka Prefecture, Japan; and Singapore Kobe Pte. Ltd. in Singapore.