Home > Press Releases > 2014 > Kobe Steel begins deliveries of aluminum extrusions to Hitachi for use in UK train cars
Press Releases
The information on this Web site is presented "as is." Product availability, organization, and other content may differ from the time the information was originally posted. Changes may take place without notice.

Kobe Steel begins deliveries of aluminum extrusions to Hitachi for use in UK train cars
November 27, 2014

Kobe Steel, Ltd. announces that it has begun deliveries of aluminum extruded shapes to Hitachi, Ltd. for use in the railway car body for the Intercity Express Programme (IEP)1 in the United Kingdom. Kobe Steel has received an order to supply nearly the total amount necessary to build the fleet of trains.
Rolling stock for the IEP will total 866 cars. A portion of each car will be manufactured by Hitachi at its Kasado Works in Japan as part of a comprehensive contract received by Hitachi Rail Europe Ltd.2 Kobe Steel is supplying material in the form of aluminum extruded shapes.
Kobe Steel's aluminum extrusions are manufactured at the company's Chofu Works in Shimonoseki, Yamaguchi Prefecture, Japan, where a variety of aluminum shapes can be made. For railway rolling stock, the Chofu Works has one of Japan's largest extrusion presses and a heat treatment furnace that can handle pieces up to 25 meters long. As thin-walled shapes of 25 meters in length can be manufactured, Kobe Steel's aluminum extrusions have been used in nearly all the rolling stock of the JR Shinkansen bullet trains, from the 300 series (1992-2012), to the latest models.
Contributing to lighter rolling stock, aluminum extruded shapes will continue to be used in railway cars. In cooperation with rolling stock manufacturers, Kobe Steel is developing aluminum extruded shapes that can improve the safety and quietness of rolling stock as well as contribute to making lighter and more efficient trains.
Notes to Editor

Chofu Works, Kobe Steel, Ltd.

Location:

Shimonoseki, Yamaguchi Prefecture, Japan

Products:

Aluminum and aluminum alloys (shapes, bars, tubes), copper and copper alloys (sheet and strip)
Kasado Works, Hitachi, Ltd.

Location:

Kudamatsu, Yamaguchi Prefecture, Japan

Products:

Railway rolling stock (Shinkansen, limited express trains, commuter trains, etc.), air conditioning and ventilation systems
1. About the Intercity Express Programme
The Intercity Express Programme (IEP) is a project of the Department for Transport in the United Kingdom to replace the current intercity train fleet with high-speed trains. The IEP includes the finance, design manufacture, delivery into daily service, and routine maintenance and repair of 122 trains for the Great Western Main Line and the East Coast Main Line. Hitachi will undertake the maintenance over a period of 27.5 years. The trains will be designed, manufactured and maintained by Hitachi Rail Europe, Agility Trains' main supplier.
2. Hitachi Rail Europe Ltd.
Based in the UK, Hitachi Rail Europe is a railway system supplier.
Extruded shapes at Kobe Steel's Chofu Works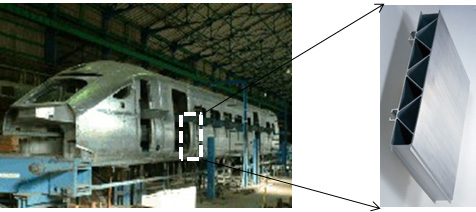 Body structure of rolling stock.
Left photo courtesy of Hitachi, Ltd.
IEP train.
Photo courtesy of Hitachi, Ltd.