The KOBELCO Group believes that the essence of compliance is to meet the expectations of society. Meeting society's expectations in regard to compliance with laws and social norms is a prerequisite to maintain trust in the Group as well as to continue to take on the challenge to resolve social issues. Based on this understanding, we have positioned compliance as a top management priority. We are developing systems and implementing initiatives outlined below to ensure rigorous compliance accordingly.
1. Compliance Code and Standards
The KOBELCO Group established the Corporate Code of Ethics, a concrete code of conduct for ensuring legal compliance, in June 2000. This code sets standards to be observed by all Group companies, directors, and employees to ensure good corporate citizenship through compliance with laws and social norms and contributions to society and through the provision of superior products and services while exercising environmental mindfulness. The code continues to be revised as necessary based on changes in the business environment. Today, we are guided by a new Group Corporate Philosophy that integrated new statements consisting of KOBELCO's View of the Future and KOBELCO's Mission in May 2020. With this philosophy as our compass, we are pursuing sustainable growth based on our compliance standards: the Core Values of KOBELCO, which represent our commitments to society and the shared values of the Group, and the Six Pledges of KOBELCO Men and Women, a code of conduct for all Group members based on the corporate ethics standards contained in the Corporate Code of Ethics.
2. Compliance Committee
The Compliance Committee has been established as an advisory body to the Board of Directors. This committee comprises the President, two other internal members, and five external members, constituting a majority to provide a fair and impartial position, with one of the external members serving as the Committee Chair. The committee drafts plans for Groupwide compliance activities, confirms the progress of these plans, and implements the necessary revisions and improvements.
3. Compliance Program
Compliance activity plans are implemented based on the KOBELCO Group's Compliance Program. The Internal Control and Audit Department serves as the dedicated organization for carrying out the program in coordination with business divisions and Group companies under the supervision of the Executive Officer overseeing Companywide compliance and the Executive Officer in charge of Companywide compliance. The progress of the compliance activities of Group companies is assessed in the following five areas. These activities are implemented based on the characteristics of the respective business and region to reinforce initiatives for more effective and comprehensive compliance activities throughout the Group.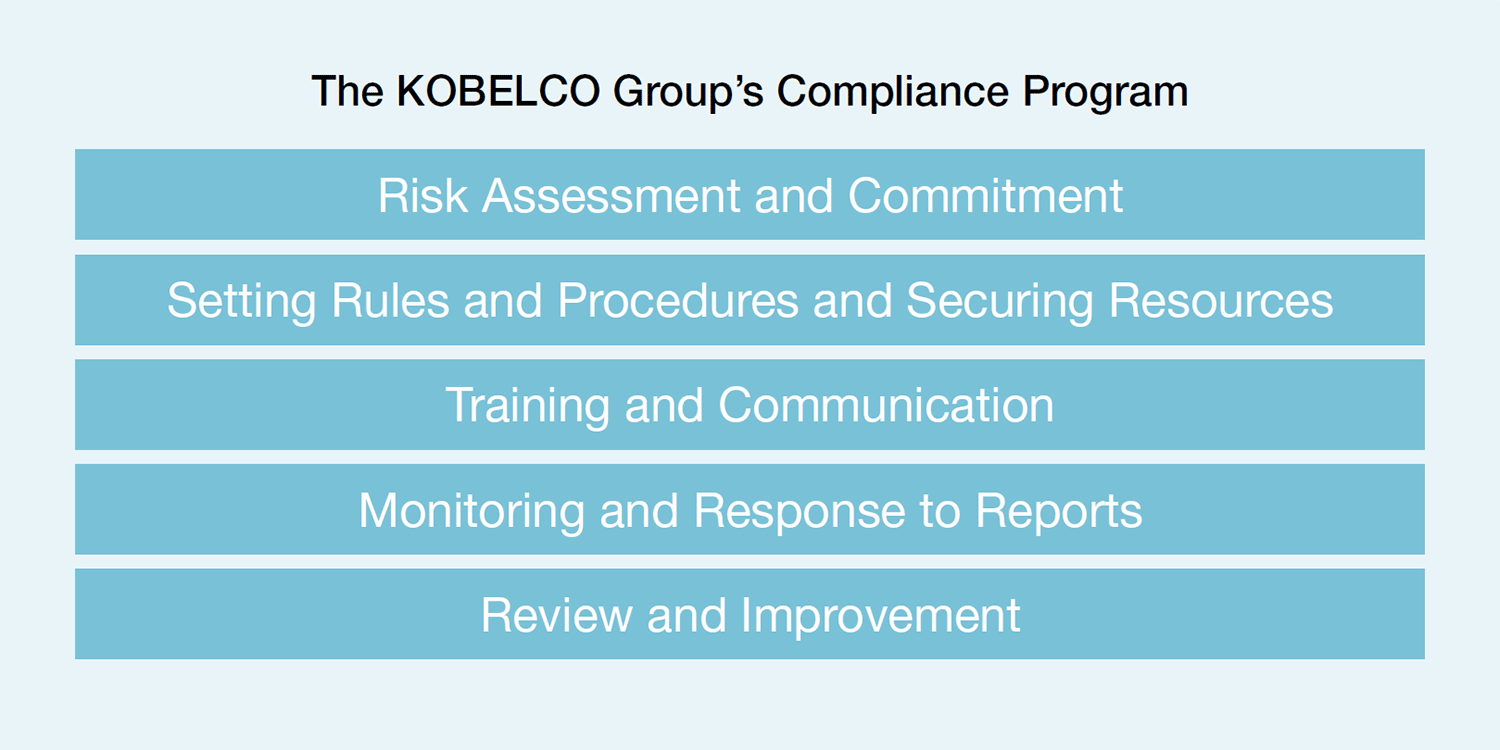 Risk Assessment and Commitment
(Commitment)
The KOBELCO Group, recognizes that in order to thoroughly prevent any misconduct, including violations of competition laws, anti-bribery laws and security trade control laws, top management needs to show its stance on non-tolerance, so the president's message on compliance is distributed routinely.
For example, the KOBELCO Group's commitment to prevent bribery was declared with the President's message when the "Anti-Bribery Policy" was established, expressing the KOBELCO Group's policy on complete prohibition of any act, which may lead to corruption by the public official or embezzlement and breach of trust by a private person through the provision of benefits including money or excessive entertainments.
(Risk Assessment)
As a part of its risk management activities, the KOBELCO Group regularly analyzes and assesses compliance risks associated with its business and activities taking into account, any internal and/or external trends. A violation relating to competition law, anti-bribery law, or security trade control law has been categorized to be a top risk for the KOBELCO Group, as such misconduct would impact the Group significantly. The Compliance Committee makes the plan for compliance related activities and presents it to the Board of Directors.
Setting Rules and Procedures and Securing Resources
(Setting Rules and Procedures)
To deal with compliance risks in each business, the KOBELCO Group sets necessary rules and procedures, including on compliance in general, competition law, anti-bribery law, security trade control law and internal reporting systems. For violations, the KOBELCO Group delivers strict discipline in accordance with the company policies, and investigates their causes to implement effective measures to prevent recurrence.
With respect to the prevention of bribery, policies, rules, guidelines and manuals for each country have been prepared, completely prohibiting any act, which may lead to corruption by a public official, or embezzlement and breach of trust by a private person from the provision of benefits including money or excessive entertainments, and approval process for entertainment expenditures and due diligence on business partners are being conducted.
(Securing Resources)
Each company within the KOBELCO Group is to secure necessary human, material, and financial resources to carry out compliance efforts. The KOBELCO Group considers the time required for compliance initiatives, such as attending the training, to be a part of necessary resource as well.
Training and Communication
(Training)
The KOBELCO Group provides training on compliance for employees in different ranks in order to make sure employees have the compliance awareness.
Additionally, in specific areas such as competition law compliance, bribery prevention, security trade control, and internal reporting systems, contents are prepared and training is provided according to the roles of each employee and the risks related to those roles so that employees can understand and comply with the relevant rules and procedures.
With respect to training, in-class training by in-house instructors and e-learning are delivered, as well as seminars by outside experts.
(Communication)
Information related to compliance is made available by issuing newsletters on amendments to law or posting manuals on the intranet.
Monitoring and Response to Reports
(Monitoring)
The KOBELCO has specified methods and conducts monitoring and audits relating to competition laws, bribery prevention, and security trade control, which are considered to be the top risks.
(Response to Reports)
The KOBELCO Group has multiple systems to receive inquiries and reports (hereinafter referred to as "Reports") from various stakeholders.
For example, internal reporting system operated by external law firm has been established to receive anonymous Reports regarding any improper conduct such as bribery, embezzlement, cartel, harassment, etc. Necessary resources and skills are brought in to appropriately respond to Reports, including investigation, while ensuring the confidentiality of stakeholders and the protection of whistleblowers.
Through the inquiry form on the official website, anonymous inquiries from external stakeholders are accepted, and in the event that the content of such inquiries is an allegation of fraud or corruption related to the Group, appropriate response would be made, securing the confidentiality obligations of related parties, as in the case of the internal reporting system.
For KOBELCO Limited, there are multiple internal reporting system both internal and external, and it has accepted Reports from third party business partners.
[Number of reports received via the internal reporting system in fiscal2019:119(including domestic and overseas group companies)]
Review and Improvement
(Review and Improvement)
The KOBELCO Group reviews its compliance efforts as necessary, based on the issues that have been identified through monitoring and response to Reports, as well as internal and external trends. Improvement plans relating to compliance are developed by the Compliance Committee and presented to the Board of Directors.
Compliance efforts relating to specific areas, including competition law, bribery prevention, security trade control and internal reporting system, are also updated, taking into account, things like amendments to law, efforts implemented by other companies, etc.
4. Anti-Corruption Efforts
The KOBELCO Group's mission and its raison d'etre is to continue to take on the challenge of resolving social issues. With regard to "Anti-Corruption" we are implementing the following initiatives.
Commitment to Anti-Corruption
In the "Corporate Ethics Code" which ensures legal compliance and the ""Anti-Bribery policy"", we have established the policies related to the following items;
Prohibition of bribery of public officials
Prohibition of Acceptance of Bribes from Business Partners and Bribery of Business Partners
Prohibition of violation of laws and regulations including extortion, embezzlement, etc.
Prohibition of involvement with any person or organization that adversely affects social order and sound corporate activities, including extortion and embezzlement
Prohibition of not only the provision of benefits and benefits such as excessive entertainment, but also similar acts that may lead to embezzlement and breach of trust by private individuals
Dissemination of policy and training related to Anti-Corruption
Corporate Code Of Ethics which stipulates the policy related to Anti-Corruption and Anti-Bribery Policy are disseminated to employees and disclosed to outsides the company. As one of the training related to Anti-Corruption, KOBELCO Group conducts training (including E-learning) for employees, related to anti-bribery which is especially assessed as top risk of KOBELCO Group,.
Oversight of Anti-Corruption measures by Board of Directors
The "Corporate Ethics Code" is resolved by the Board of Directors, and compliance action plans, including Anti-Corruption measures, are formulated by the Compliance Committee, and submitted to and supervised by Board of Directors.
Anti-Corruption measures related to business partners
In the "Basic Procurement Policy", having a business transaction with contractors, distributors and consultant etc (hereinafter called "Business Partner"), we ask them for their cooperation in Anti-Corruption. Especially, Regarding with antibribery measures based on Anti Bribery Policy, when we appoints new Business Partner, we carry out the due diligence for Business Partner based on checklist and require them to submit written pledge related to anti-bribery. In addition, at the time of renewal of contract with existing Business Partner, we also carry out due diligence for them based on checklist and ask them to submit written pledge related to anti-bribery.
Measures based on Corruption risk assessment
Bribery is considered one of the top risks for the KOBELCO Group, and measures are being taken to prevent bribery based on risk assessment in each business and region.
Internal reporting system with assuring confidentiality and anonymity
The internal reporting system allows anonymous reporting of all types of misconduct, including those that violate anti-corruption measures. In responding to reports, we use the necessary resources and skills to respond to investigations etc appropriately with ensuring the confidentiality of parties involved and the protection of whistleblowers.
Fines, penalties and settlement related to corruption
In fiscal 2019, there were no cases of fines, penalties, or settlements related to corruption.
5. Related Policy