Home > Products > Ultra High Pressure Equipment > Technical Center
Technical Center - IP Section
The Technical Center at Takasago Works, through CIP/HIP testing, helps customers develop their own equipment and processing technologies for smooth start-up of the production line.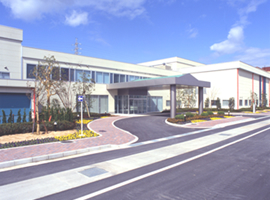 Technical Center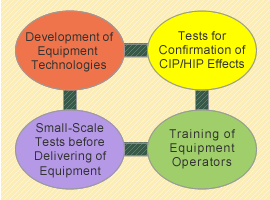 CIP・HIP Services
Meeting Customer Demands via the Test Center

The Technical Center specializes in meeting a wide variety of customer demands.
Verification of HIP/CIP effectiveness
Optimization of process temperature and pressure
Pre-delivery test production
Temporary production during equipment downtime (i.e. inspection, improvements)
Operator training
After installation, a specialist service group ensures safe and stable operation of your ultrahigh pressure equipment.
For details on ultrahigh pressure equipment services, see the link below:
Specifications of KOBELCO's CIP/HIP Equipment and High Pressure Food Processor (HPP) Equipment

Through in-house HIP/CIP equipment and cooperation with immediate delivery users, we support a wide range of IP processing.
High Pressure Food Processor (HPP) Equipment

| Type | Maximum Pressure (MPa) | Capacity (ℓ) | Note |
| --- | --- | --- | --- |
| FF6005 | 600 | 50 | |
| Dr. CHEF | 700 | 0.6 | -20℃ to 80℃ |
CIP Equipment

No.
Dimensions of Pressure Vessel
(mm)
Maximum Pressure
MPa
(kgf/cm2)
Type
Diameter
Height
1
300
900
490(5000)
Wet Bag Type
2
80
300
392(4000)
Dry Bag Type
3
60
200
686(7000)
WIP(-20°C to 80°C)
4
60
180
980(10000)
WIP(RT to 150°C)
HIP Equipment

No.
Heater Type
Dimensions of
Pressure Vessel
(mm)
Maximum Temperature
°C
Maximum Pressure
MPa
(kgf/cm2)
Pressure Medium
Diameter
Height
1
Gr(Graphite)
115
240
2000
196
(2000)
Ar, N2
Mo(Molybdenum)
115
280
1500
Ar
Pt(Platinum)
90
200
1400
Ar, N2,
Ar+MAX20%O2
N2+MAX20%O2
2
Gr(Graphite)
180
500
2000
196
(2000)
Ar, N2
150
280
2400
Mo(Molybdenum)
230
650
1400
Ar
HIP Preprocessing Equipment

No.
Dimensions of Capsule
Capsule Material
Deaeration Temperature
1
(Dr. Capsule)
D34mm X H50mm
Soft Steel, Stainless Steel
max
650°C
2
W400mm X D400mm X H10mm
Capsule Thickness:
50 to 200μm
Soft Steel, Stainless Steel, Titanium
Room Temperature