Home > Products > Ultra High Pressure Equipment > Services and Achievements
Services and Achievements
Comprehensive Services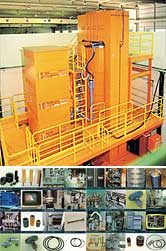 Kobe Steel' s unique HIP/CIP technologies have been developed through 50 years of interaction with the customers. The accumulated expertise allows us to lead the competition.
HIP and CIP equipment utilize ultrahigh pressure, making safety and reliability a primary concern. Additionally, the long-term functionality and performance which customers demand necessitates a comprehensive approach to planning, manufacture, installation, test runs and maintenance. The superior engineering staff at Kobe Steel, as well as our integrated corporate structure, allow us to offer optimal solutions for a wide variety of customers.
In addition to being the largest manufacturer of ultrahigh pressure equipment utilizing HIP and CIP technology in Japan, Kobe Steel is Japan' s leading materials and engineering manufacturer, which enables us to provide customers with fully coordinated support.
Consulting Services

Kobe Steel' s Test Center houses both HIP and CIP equipment with highly skilled operators. Utilizing a broad range of experience and technologies, including ceramics, metals and composite materials, the center approaches its work from the customer' s point of view, suggesting improvements and new avenues for development.
Technical Support Services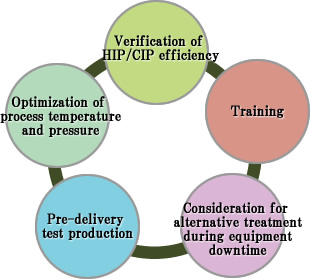 Kobe Steel operates a Technical Center to help customers with smooth installation of HIP and CIP equipment. The Technical Center can meet a variety of requests, including verification of HIP/CIP efficiency, optimization of process temperature and pressure, pre-delivery test production and operator training.
Maintenance and Inspection Services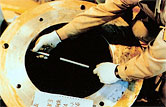 Utilizing ultrahigh pressure, both HIP and CIP equipment operate under extreme conditions, with strict demands on individual parts. In addition to supplying necessary spare parts, veteran engineers from Kobe Steel specializing in after-sales service visit customers regularly for inspection and maintenance. Design engineers also make visits in order to bolster the customer' s technical expertise in both hard and soft technologies. Maintaining close cooperation after installation of equipment helps ensure stable operation for our customers.
From Estimate to Delivery

From inquiries to ordering and delivery, our first priority is to satisfy a wide variety of customer demands. The typical ordering process is as follows: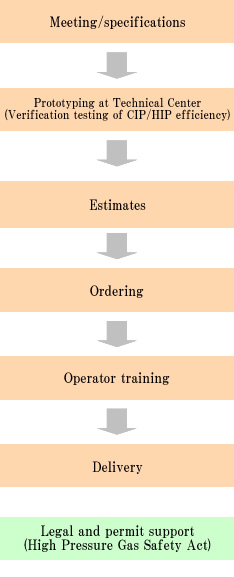 Proposing optimal processes through technical discussions
Confirming effectiveness of HIP/CIP technology through testing
Proposal of price and delivery time
Contract and manufacturing
Operator training before and after delivery
We conform to legal regulations required for design, installation, and maintenance of the equipment.
For more information, please inquire via the contact page.
Installation Achievements

Kobe Steel has installed over 800 HIP and CIP equipment for customers, not only in Japan but throughout the world. As well as being the leading manufacturer of HIP/CIP, we are also one of the largest end-users, operating 11 HIP and 6 CIP equipment.
Combining the technical strength as the manufacturer with the expertise and know-how as the end-user, we can respond to a wide variety of customer requests.
HIP Equipment Production Levels (by Use)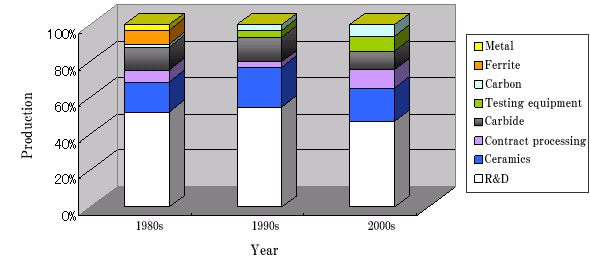 CIP Equipment Production Levels (by Use)