Kobe Steel, Ltd.

TOKYO, February 7, 2019 — Kobe Steel, Ltd. plans to invest approximately 1.8 billion yen to increase the production capacity of its Steel Powder Plant in Takasago, Hyogo Prefecture in western Japan.
The production capacity of steel powder products will increase to 110,000 metric tons per year, from the current 96,000 metric tons per year. Mass production is scheduled to begin in the April–June quarter of 2021.
Kobe Steel's steel powder products are mainly used in powder metallurgy to make automotive sintered parts such as engine parts and transmission parts. In the steel powder field, Kobe Steel estimates that it has nearly a 50 percent share of the domestic market, making it the top producer in Japan. Steel powder products of high acclaim are its original high-performance SEGLESS® KP and KS series having high compressibility and machinability, which contribute to high strength, and the SEGLESS® graphite segregation-free steel powders.
With car production forecast to increase over the medium to long term, demand for steel powders is anticipated to grow in the future, leading to Kobe Steel's decision to increase the production capacity of the Steel Powder Plant. Kobe Steel will install another reduction furnace to enable higher treatment temperatures than the current furnaces. It will also install another SEGLESS® mixer to increase production capacity of SEGLESS®. Of the total production capacity of 110,000 metric tons per year, SEGLESS® will comprise 60,000 metric tons per year, an increase from the current 40,000 metric tons per year.
Through this investment, Kobe Steel will be able to further provide a stable supply of steel powders to customers. At the same time, it will be able to better respond to their diverse needs using equipment that can produce high-performance steel powder products.
Kobe Steel, which entered the steel powder business in 1968, was the first to introduce an atomization process in Japan in which high-pressure water is sprayed onto molten metal, turning it into a powder. The process enables Kobe Steel to produce outstanding steel powders of high purity, high compressibility and high density. In addition to steel powder for powder metallurgy, other major products include steel powder that remediates contaminated soil and ground water called ECOMEL™ to prevent the spread of toxic substances such as heavy metals and VOCs (volatile organic compounds); magnetic steel powder called MAGMEL™ for use in motors and reactors; and other distinctive powders for use in hand warmers and deoxidants.
Outline of Production Capacity Increase
Equipment to be installed:

1 reduction furnace, 1 SEGLESS® mixer

Investment amount:

Approximately 1.8 billion yen

Start of mass production:

April–June quarter of 2021

Total production capacity:

Steel powders 110,000 metric tons/year
SEGLESS® (included above)  60,000 metric tons/year
Background Notes
1. Powder Metallurgy
In powder metallurgy, metal powder is pressed and compacted into a mold and sintered to make a high-precision part. In comparison to the machining of steel, powder metallurgy offers high yield as parts with complex, near-net shapes can be manufactured.
2. Graphite Segregation Free Treatment
Graphite is mixed with steel powder to improve the strength of sintered parts. As the specific gravity of graphite is low and its particle size is small, simply mixing the graphite leads to easy separation and segregation, resulting in variation in the composition of the part. To improve this condition, segregation-free treatment enables the graphite to adhere to the steel powder.
3. Reduction Furnace and SEGLESS® Mixer
A reduction furnace is a heat treatment furnace used in the finishing stage of steel powder production. A SEGLESS® mixer can be used for the segregation-free treatment of graphite powder mixed with steel powder.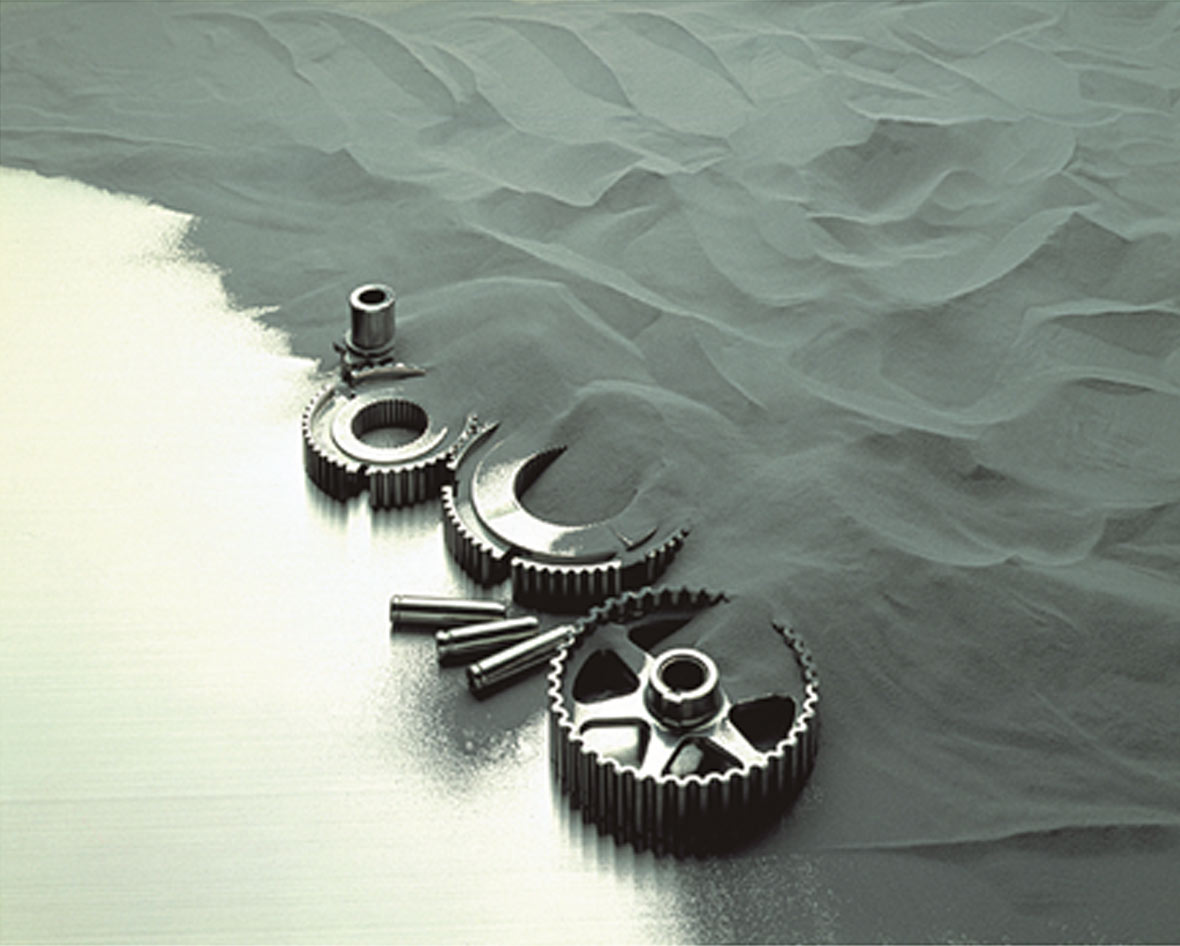 Image of steel powder and application examples: sintered parts for automotive use
(Note) The information on this web site is presented "as is." Product availability, organization, and other content may differ from the time the information was originally posted. Changes may take place without notice.