Kobe Steel, Ltd. announces that it has accepted an order from engineering and construction company Clough for two printed circuit heat exchanger (PCHE) units that will be used at a gas treatment plant to be constructed as part of the gas field development of the Waitsia Gas Project Stage 2, funded by Mitsui E&P Australia (MEPAU), near the town of Dongara in Western Australia.
Following Stage 1, which began production in 2016, Stage 2 production is scheduled to begin in the second half of 2023. The produced natural gas will be sold to both the Australian and Asian markets. Clough, undertaking the engineering, procurement, and construction (EPC) of this project, will construct the gas processing plant with an export capacity of 250 TJ/day. Our Company's PCHE units will be used at the plant for the purpose of heat exchange. The PCHE units will be delivered to Australia in 2022.
Kobe Steel commercialized the PCHE in 2012, leveraging its expertise of over 50 years in the design and manufacture of heat exchangers. Compared with the conventional heat exchanger with the shell and tube structure (double tube type), our PCHE is designed to have a wider heat transfer area (approx. 1,000 m2/m3), compactness (approx. 1/10 in size), and resistance to ultra-high pressure (100 MPa) by making laminated fine flow channels of 1-2 mm in width on stainless steel plate and joining them by diffusion bonding*. For these features, Kobe Steel already has a large global share in the market of heat exchangers for hydrogen filling stations, but this time, we have accepted an order for PCHE units of the largest class in our company, for use in the gas processing plant.
The KOBELCO Group's Medium-Term Management Plan (FY 2021 to FY 2023), announced in May this year, has set the challenge of carbon neutrality as one of its top priorities. Natural gas is a clean energy source with excellent environmental characteristics that generates less CO2 during combustion. We will continue to contribute to the reduction of environmental impact through the development and sale of eco-friendly products.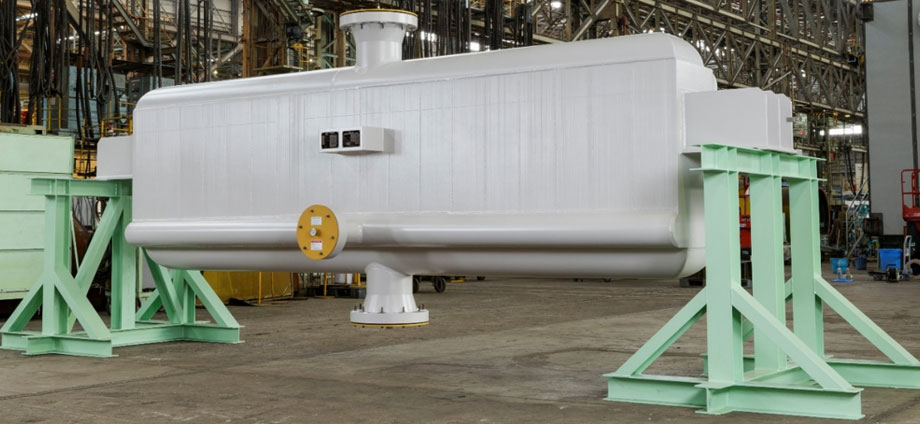 An example of PCHE