Home > Welding > Kobelco Welding Today

It is a magazine for business issued to introduce our products, technology, and activity to everybody of the customer related to the welding of the world and the sales network. The aspect is applied from various angles like latest information concerning the material and construction technology and our business operation, etc. and it introduces it from the abc of the welding.
Latest & Recent Issues

eBook Format
PDF Format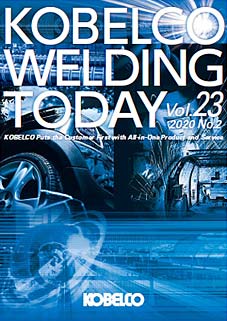 Kobelco Welding Today Vol.23 No.2 2020

Technical Highlight
FAMILIARC™ MIX-1TR: the solid wire for GMAW to improve electrodeposition coating property
Products Spotlight
FAMILIARC™ OW-S50P (E71T-8-H16): Self-shielded flux cored wire for overseas markets
Bulletin
KOBELCO technical seminar in Saudi Arabia in 2020
Video courses on fundamentals of welding uploaded to YouTube and KOBELCO's Global Website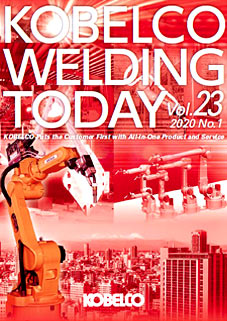 Kobelco Welding Today Vol.23 No.1 2020

Products Spotlight
ARCMAN™ A40: The new robot for overhead welding systems
Technical Highlight
A new function for the ARCMAN™ robotic welding system: root gap detection by laser sensor
Bulletin
Your best partner KOBELCO brings Total Welding Solutions to FABTECH 2019
Archives

Adobe Reader is Required
Adobe Reader is requied in order to view a PDF file.
Click the banner below to download Adobe Reader.