Home > Welding > Kobelco Welding Today

It is a magazine for business issued to introduce our products, technology, and activity to everybody of the customer related to the welding of the world and the sales network. The aspect is applied from various angles like latest information concerning the material and construction technology and our business operation, etc. and it introduces it from the abc of the welding.
Latest & Recent Issues

eBook Format
PDF Format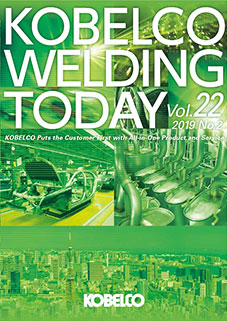 Kobelco Welding Today Vol.22 No.2 2019

Products Spotlight
PREMIARC™ MX-A430M / PREMIARC™ MX-T430Nb / Ferritic stainless steel welding consumables for automotive exhaust systems
Preface
Quality management is in progress in the Welding Business as well as KOBE STEEL
Technical Highlight
Solid wires for thin steel sheets: TRUSTARC™ MG-S120T for ultra-high tensile strength and, FAMILIARC™ MG-1T(F) for wire feeding control
Bulletin
Chinese Shin-Yo-Kai: KOBE STEEL' s welding distribution network in China
The Welding Business holds its 114th QC circle conference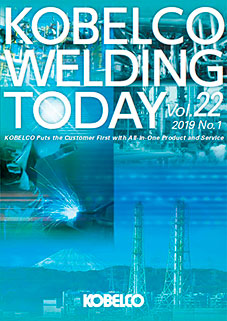 Kobelco Welding Today Vol.22 No.1 2019

Products Spotlight
SG-2Z-CE / Equipment for the SEGARC™ process in EU Highly efficient electro-gas arc welding process
Preface
New Year' s greeting from the Head of the Welding Business
Technical Highlight
Flux cored wires for heat resistant steels that conform to AWS specications
Bulletin
10th year anniversary of KOBE WELDING OF QINGDAO, China KWAI at FABTECH 2018: KOBELCO-Your Best Partner on display
Archives

Adobe Reader is Required
Adobe Reader is requied in order to view a PDF file.
Click the banner below to download Adobe Reader.