Home > Welding > Kobelco Welding Today

It is a magazine for business issued to introduce our products, technology, and activity to everybody of the customer related to the welding of the world and the sales network. The aspect is applied from various angles like latest information concerning the material and construction technology and our business operation, etc. and it introduces it from the abc of the welding.
Latest & Recent Issues

eBook Format
PDF Format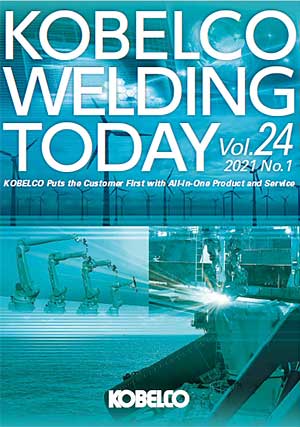 Kobelco Welding Today Vol.24 No.1 2021

Preface
New 2021 Year's greeting from the Head of the Welding Business
Products Spotlight
New line-up in the ARCMAN™ welding robot series
Technical Highlight
The new SAW FAMILIARC™ US-29HK /TRUSTARC™ PF-H55LT-N, for Offshore Wind Power Generators
Bulletin
The Welding Business's 115th International QC-Circle Conference
Archives

Adobe Reader is Required
Adobe Reader is requied in order to view a PDF file.
Click the banner below to download Adobe Reader.