Home > Titanium > History of Titanium
History of Titanium
Dr. Kroll visited our Titanium Laboratory to see our vacuum-type high-frequency melting furnace during testing. (1953)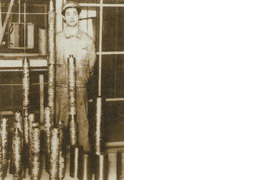 A 50kg titanium ingot melted once (longer ingot on left), and ingot melted twice (shorter ingot on right) using the consumable electrode vacuum arc melting process that was developed with the technical support of Dr. Kroll and Mr. Gilbert, Engineer. (1954)
Kobe Steel succeeded in the manufacture of an ingot with a good, complete surface and exported a sample to the U.S.A. for the first time in 1955.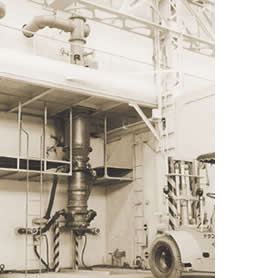 A 1-ton VAR melting furnace installed at the time the Titanium Melting Plant was constructed. (1959)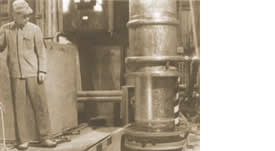 A 1-ton twice-melted titanium ingot being discharged from the vacuum arc melting furnace. The furnace was our original design, and began initial operation in our Takasago Plant in 1959. The completion of this furnace initiated extensive use of titanium products in the chemical industry.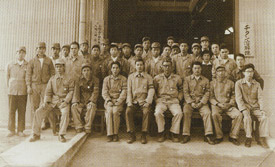 The members of the Titanium Melting Section at the time the section was established. (1959)
History of Kobe Titanium

| | |
| --- | --- |
| 1949 | 1949 The first research and development of titanium begins in Japan. |
| 1955 | Industrial production begins. |
| 1959 | A new melting plant with an annual production capacity of 1200 tons is constructed (world's first practical application of VAR with side feed system[Kobe Process]). |
| 1959 | Titanium alloy delivered for application in turbojet engines (J-3) for first time in Japan. |
| 1972 | Mass production by strip rolling started at the Kakogawa Works (Patented in Japan). |
| 1979 | Titanium welded tubes delivered for application in nuclear power generation for first time in Japan (2nd Fukushima Nuclear Power Plant, No. 1 Power Generator of TOKYO ELECTRIC POWER COMPANY, INC.). Start of delivery of titanium parts for application in F100 turbofan engines. |
| 1981 | Melting capacity boosted to 7200 tons/year. |
| 1982 | Delivery of the H1 Rocket part commenced. |
| 1985 | Start of delivery of fan case rings for application in V2500 turbofan engines. |
| 1986 | World's only continuous annealing and pickling line (APL) exclusive for titanium begins operation. |
| 1987 | Pressure-resistant shell made of titanium alloy delivered for application in Deep Submergence Vehicle "SHINKAI 6500." Start of delivery of components for H2 Rockets. |
| 1993 | Titanium walls delivered for use in the Tokyo International Exhibition Hall, Congress Tower (Big Sight) - the world's largest building to utilize building titanium. |
| 1997 | Melting capacity boosted to 10,000 tons/year. |
| 1998 | Special titanium tubing production line updated. |
| 1999 | Cumulative production of titanium ingots reached 100,000 tons. |
| 2001 | Authorized as the supplier of compressor discs for jet engines by Rolls-Royce plc (UK). |
| 2002 | The licence to manufacture and sell our newly developed α-β titanium alloy "Ti-9" assigned to Titanium Metals Corporation(USA). |