Home > Titanium > Top Titanium Manufacturer Kobelco
Top Titanium Manufacturer Kobelco
Titanium Pioneer in Japan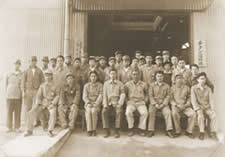 Kobe Steel began research and development of titanium in 1949, and has since contributed to the growth of diversified industries for over 50 years.
Top Titanium Manufacturer in Japan

Cumulative production of titanium reached 100,000 tons in the 50 years since the start of production (as of 1999). This is the largest volume in Japan.
Unrivaled Integrated Titanium Manufacturer in Japan

The integrated production line from titanium melting to final products provides consistent quality design and quality control.
High Quality and High Reliability Proven by Many Authorizations as the Titanium Supplier for Aircraft Applications

Kobe Steel is authorized as the titanium supplier by aircraft and jet engine manufacturers both within Japan and abroad because of our highly-regarded forging technology, integrated manufacturing system, and supply record. In 2001, Kobe Steel became the first Japanese manufacturer to be authorized by Rolls-Royce plc as a supplier of compressor discs for their jet engines. We are one of just seven companies ever to have been authorized as suppliers of titanium and other materials.
World Acclaimed Production Facilities

As a titanium pioneer, Kobe Steel has continued to produce high quality titanium products in our own Production facilities, best suited to titanium manufacturing.
Kobe Steel's purpose-built titanium production facilities include:
VAR furnaces, continuous annealing-pickling line, vacuum annealing furnace, tube welding line, ring rolling mill, etc.
Diversified Product Types

Production of various titanium materials from commercially pure titanium to titanium alloy corresponds flexibly to diversified product shapes, for example coils, sheets, plates, welded tubes and forgings.
Development of New Materials and New Technologies

Kobe Steel has successfully developed the materials, joining technology and functional surface treatment technology to meet any user needs.
Our developed materials and technologies

Classification
Items
Composition
Features
Commercially pure titanium
Titanium for buildings

Commercially pure
titanium
Excellent pocket wave resistance, low gloss, excellent discoloration resistance
Titanium for press-forming
Commercially pure
titanium
Order-made material properties and surface quality corresponding to required press-forming accuracy
Titanium alloy
KS100,
KS120SI
Ti-Fe-O
Ti-Fe-O-Si
Excellent scratch resistance, excellent mirror-like finishing properties, strength higher than Ti-3Al-2.5V by use of low-cost alloy element
Ti-1.5Al
←
Excellent heat resistance and hydrogen absorption resistance ,
Good formability of same level as commercially pure titanium
AKOT
Ti-Ni-Pd-Ru-Cr
Extra high corrosion resistance
Ti-5Ta
←
Excellent corrosion resistance in high temperature and high concentration nitric acid
Ti-9 (TI NINE)
Ti-Al-Mo-V-Fe-Si-C
Cold rolling available, characteristics equivalent to Ti-6Al-4V
KS EL-F
-
Hot forging and cutting properties of same level as commercially pure titanium
Ti-16V-4Sn-3Al-3Nb
-
Cold forging properties
Ti-15Mo-5Zr-3Al
-
Extra high strength, extra high corrosion resistance
Titanium
alloy
Technology of welding
titanium to other metals
-
Titanium weldable to other metals (steel, stainless steel, etc.)
Surface
treatment
PdO/TiO2 treatment
-
Excellent corrosion resistance
KENI COAT
-
Excellent wear resistance
KENI FINE
-
Excellent antibacterial properties
Inorganic clear paint
for titanium
-
Excellent discoloration resistance, excellent stain resistance,
Excellent scratch resistance, excellent fingerprint resistance
User Support System

With our accumulated material design and processing technologies, Kobe Steel has contributed to the commercialization of various titanium products from golf clubs to jet engine components. Our expertise allows us to achieve low-cost and rapid development.
Record of Awards and Prizes

The technologies developed by Kobe Steel as Japan's titanium pioneer have greatly contributed to today's worldwide use of titanium. Kobe Steel has received numerous awards from various organizations for the range of technologies we have developed.
History of various received prizes related to titanium

1956
Study of titanium and titanium alloys
Jeffries Award from the Japan Institute of Metals
1958
Establishment and practical use of titanium welding technology
"SASAKI" Prize by Japan Welding Society
1959
Study of titanium and establishment of titanium welding and manufacturing technology
Scientific Technology Prize by Hyogo Prefecture
1963
Application of titanium to chemical industry
9th Ohkouchi Memorial Production Award
1963
Special-steel manufacturing technology
(VAR technology)
Purple Ribbon Medal (to Dr. Zenichiro Takao)
1974
For invention of New VAR Method (KOBE Method)
Purple Ribbon Medal (to Dr. Hidetake Kusamichi, Dr. Yoshio Yagi, Dr. Toru Yukawa)
1982
For development and practical use of thin wall welded titanium tubes for thermal and nuclear power plants
28th Ohkouchi Memorial Production Award
1986
For study of titanium alloy pressure-resistant shell for application in Deep Submergence Vehicle "SHINKAI 6500"
Japan Shipbuilding Society Prize, Japan Marine Association Prize, Chairman Prize of Japan Ships Promotion Association
1988
Defense Technology Thesis Prize
1991
For development of "SHINKAI 6500"
Japan Industrial Technology Prize, Prime Minister Prize
1995
For development of titanium and titanium alloys
Secretary Prize of Science and Technology Agency, Science and Technology Contribution Prize (to Dr. Takashi Nishimura)
1996
For growth of the titanium industry
The First Class Order of the Sacred Treasure (to Dr. Hidetake Kusamichi)
1997
Development of titanium heat exchanger tubing with high corrosion resistance for sea water services
Secretary Prize of Science and Technology Agency, Science and Technology Contribution Prize (to Dr. Hiroshi Satoh)
2000
For titanium alloy ring-rolling technology for V2500 turbofan engine fan case
35th Technology Development Prize by The Japan Society for Technology of Plasticity