Home > Products > Rolling Mill > Foil / Sheet / Strip Mills > 2.2 Automatic Flatness Control System (AFC)
2.2 Automatic Flatness Control System (AFC)
Product Summary

Automatic Flatness Control System (AFC) imports the flatness data, which are detected by Flatness Indication system (FI), and controls the actuators to ensure the excellent flatness accuracy.
Automatic Flatness Control System (AFC) adapts multi-variable control theory included our abundant experience in multi-high mill (KT or KST Mill) and aluminum foil mill (4-high).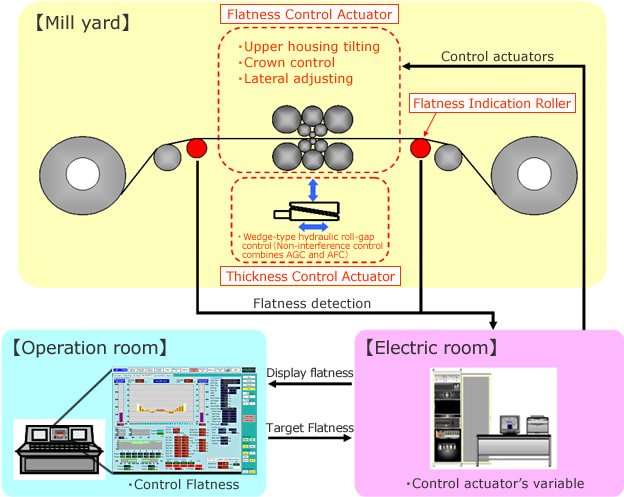 Flatness control algorithm

Influence coefficient method, which enables to grasp the efficiency of the actuators, can be determined precisely. Multiple variable controls can decide the amount of operation of the most suitable actuator due to the flatness error.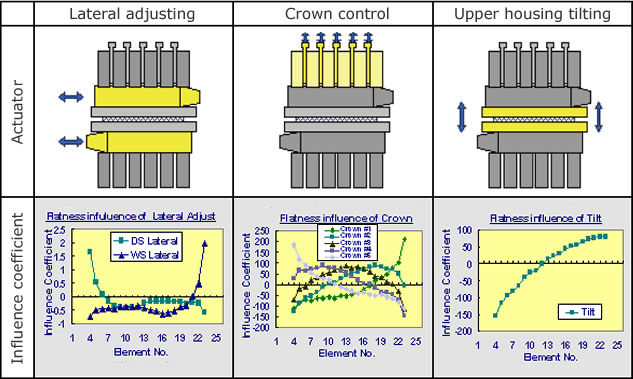 "Shapematic System" Configuration
Non-interference control combines AGC and AFC

The non-interference control is to combine the two functions of an automatic gauge control (AGC) and an automatic flatness control (AFC) with a newly introduced evaluation function to form a single integrated system. (Kobe Steel Patent)
Flatness control result

At the different type of mill too, measuring and analyzing the influence coefficient of a shape, the advanced control becomes possible.

The result of AFC