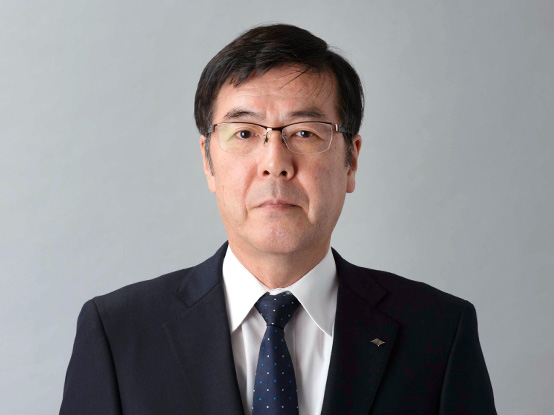 I am Mitsugu Yamaguchi and became President and CEO on April 1, 2018.
To begin, I once again deeply apologize for the trouble that the Kobe Steel Group has caused to our customers, suppliers, shareholders and many other people in connection with the misconduct that took place in our company.
With the cooperation of our customers, I am placing my highest priority on verifying the safety of our products. I will take the lead and devote my energy, together with all of our officers and employees, to our efforts to carry out the measures that will prevent a recurrence. My biggest mission is to push forward with fundamental reforms to our governance and corporate culture. I take to heart the essential task of regaining trust in the Kobe Steel Group. By transforming into a corporate entity truly committed to full compliance, we aim to achieve lasting growth.
The Kobe Steel Group has been implementing a medium-term management plan focused on growth strategies for its three core business areas of materials, machinery and electric power. We will continue to carry out this plan to reach our goals.
The trend toward weight savings in vehicles against the backdrop of growing environmental regulation worldwide is a favorable tailwind for our company. We believe we can demonstrate great strengths in this area by virtue of our steel, aluminum and copper products, our welding solutions and technologies, and more. In addition, we will accelerate efforts in our Machinery Business to prepare for growing demand in the future including the strategic expansion of the compressor business and the hydrogen business. Our Electric Power Business is positioned as a stable revenue base, and we will steadily move forward with new projects to strengthen that business.
I believe the company can take a big step forward in governance, management and processes related to quality by thoroughly rectifying what must be changed and overcoming the challenges that confront us.
Monozukuri is our livelihood and is based on outstanding quality rooted in strong principles and excellent technologies. By steadily carrying out measures to prevent future misconduct, and by supplying products of reliable quality, we will strive to regain trust. To show that Kobe Steel has fundamentally changed, we will tackle our reforms with unwavering resolve. I thank our customers, employees and others for their continued support and encouragement.