Home > Products > Copper Sheet and Strip > High Strength and Good Formability Copper Alloy CAC™ 75
High Strength and Good Formability Copper Alloy CAC™ 75
High strength and Good electrical conductivity
Excellent stress relaxation resistance and Good bend formability.
Good Points

Has higher strength than 750MPa, and can use for small terminals suitably.
Has high yield strength, equivalent to low bdellium copper alloys.
Has about 3 times electrical conductivity of phosphorous bronze.
Has excellent bend formability, which contributes to flexibility in designing due to smaller anisotropy.
Has excellent stress relaxation resistance and is suitable for the automotive applications.
Nominal Compositions

Cu-2.5Ni-0.55Si-1.0Zn-0.2Sn (mass%)
Characteristics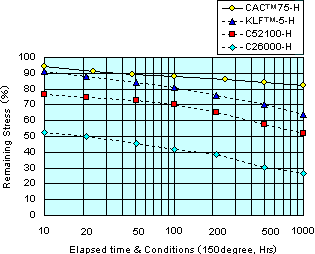 Fig. Stress Relaxation Resistance of CAC™ 75.
1. Physical Properties
Specific Gravity
8.9
Coefficient of Thermal Expansion
(293~573K)
17.6 x 10-6/K
Thermal Conductivity (293K)
166 W/m

.

K
Electrical Resistivity (293K)
43.1 nΩ

.

m
Electrical Conductivity (293K)
40 %IACS
Modulus Elasticity (293K)
127 GPa
* The above are typical characteristics.
2. Mechanical Properties
Temper

Tensile
Strength
MPa
Yield
Strength
MPa

Elongation

%

Vickers
Hardness
MHv: 4.9N
H
700~850
730
5 min
210~260
* Yield strength are nominal values.
* The above tensile strength and hardness are our standard specifications.
We will adjust these specifications by your requests.
3. 90°W-type Bend-formability (MBR)
| Temper | Good Way | Bad Way |
| --- | --- | --- |
| H | 0.5 | 0.5 |
* The above are typical characteristics.
The value slightly varies depending on the thickness of specimens.
Use

Small terminals and connectors for Automotive wire harness, Terminals and connectors for Consumers etc.
Others

Not used cadmium (Cd), lead (Pb), mercury (Hg), six value chrome (Cr+6), polybrominated biphenyl (PBB), Polybrominated biphenyl ether (PBDE) restricted with RoHS etc.

Kobe Steel, Ltd. Advanced Materials Business
Copper Rolled Products Unit
Copper Flat Rolled Products Sales Department