Home > Products > Welding Materials
Welding Materials
Kobe Steel's welding materials ranging from covered electrodes and semi-automatic welding wires to wires and fluxes for automatic welding, are all produced under rigorous standards. Each product is highly acclaimed by industries both inside and outside of japan for proven reliability under various welding conditions.
About Welding Handbook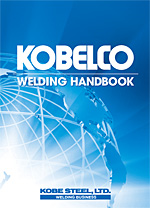 It is a product catalog that publishes the typical one of our products and these related information. We will do the content update mainly and irregularly according to the material standard revision and the product review. Please confirm the latest version on our homepage sometimes.