Home > Products > Steel Product
Steel Product
Iron & Steel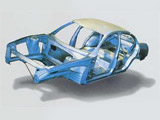 The Iron and Steel Business produces high-quality, value-added iron and steel products at its Kakogawa and Kobe works. We have achieved highly efficient, energy-conserving operations at these facilities through the use of cutting-edge production technologies. Our products include high strength steel wire rods used in bridges, wire rods for engine valve springs, precoated steel sheets and plates with applications in the automobile,electronics, construction, and shipbuilding industries, and high tensile strength steel plates for ship components. In addition, we employ advanced production techniques at Takasago Works to produce high-quality atomized steel powders.
Increased consciousness about the global environment is generating further industrial demand to reduce automobile weight. Kobe steel is a leader in research and development on high-tensile steel sheet featuring superb strength and machinability, which now has an excellent reputation among automobile marks.
Wire Rods and Bars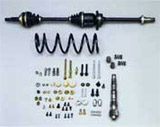 Kobe Steel's world-class steel wire rods and bars are processed to make automobile engine valve springs and suspension springs as well as numerous forged, pressed, and machined products.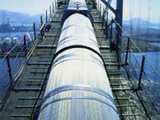 Kobe Steel incorporates piano wire rods in its main cables for suspension and other types of bridges. Our products are being used extensively in the network of bridges that connect the Japanese islands of Honshu and Shikoku.
Steel Sheets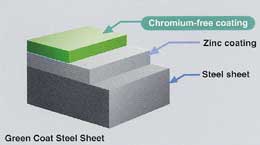 Even though our Green Coat surface treated steel sheets are chromium-free, they are as corrosion resistant, formable, fingerprint resistant, paintable, and electrically conductive as steel sheets with chromate coatings. Easily recycled, these environment-friendly sheets are used in electrical appliances, audio equipment, office equipment, and communication equipment.
Steel Plates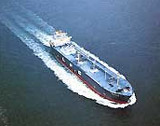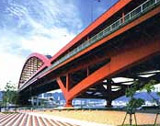 Our comprehensive line of plate products meets the diverse needs of users in the shipbuilding, construction, bridge construction, and other core industries. Along with steel plates for general use, we also supply high performance steels such as high tensile strength steel and steel for low temperature applications.
Bearing Steel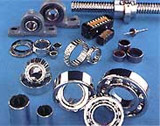 Kobe Steel's bearing steel is used in automobiles, machinery, precision devices, and many other applications that require highly reliable bearings. Our high-purity bearing steel has received especially high acclaim when used in bearings for DVD equipment, computers, and other applications that require noise-free operation.
Steel tubes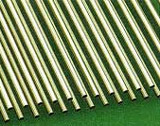 The stainless steel tubes manufactured by Kobe Special Tube Co., Ltd., and our other steel tube products are trusted and highly regarded in many industries, including petroleum, chemicals, machinery, aerospace, and nuclear power generation.
Catalog