Home > Products > Aluminum > Pre-coated Aluminum Fin Stock for Heat Exchangers
Pre-coated Aluminum Fin Stock for Heat Exchangers
With good thermal conductivity, Aluminum fin stock is used in heat exchangers of room/ package air conditioners and large refrigerators.
Kobe Steel satisfies customers' demands for multifunctional fin stock by our excellent coating technologies.
1.Characteristics

Here is a line–up for some characteristics required by heat exchangers.
(1) Hydrophilicity

Hydrophilicity stands for the expanse of water on the surface of the fin stock. By imparting hydrophilicity to the fin stock, spraying of water from heat exchangers is prevented.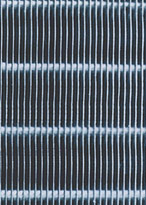 Pre-coated
(No treatment)
(2) Corrosion Resistance

Aluminum sheet is protected from corrosion by corrosion-resistant coating.
We have a special coating that can be used in salt damaged places.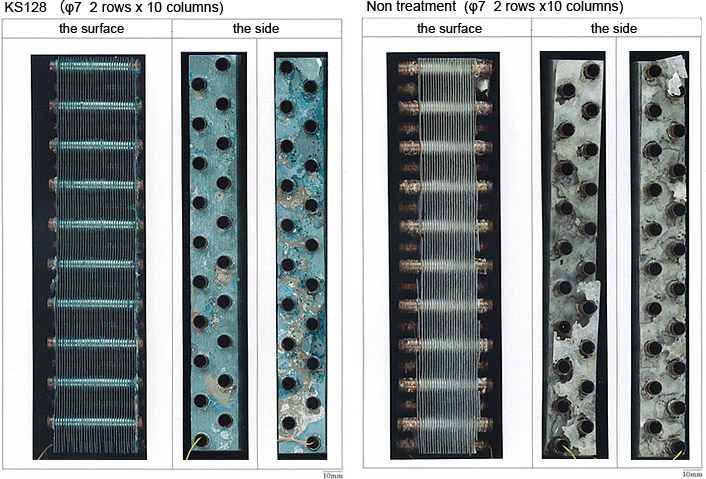 (3) Press Formability

Press formability is raised with a lubricant layer in the coating.
(4) R&D: System of Development

Product technique, Manufacturing technique and Element technique are developed under the following system.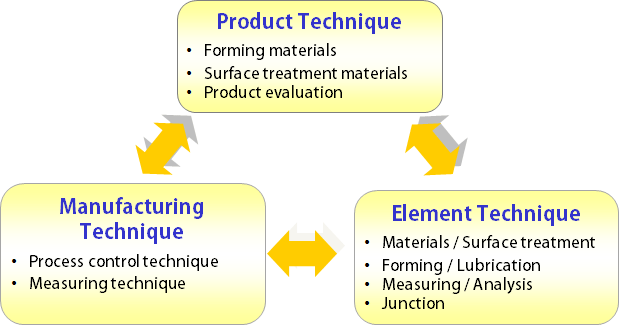 (5) Evaluating / Analyzing Equipment

We have equipment for evaluating and analyzing fin stock (e.g. fin press, the apparatuses for modeling tests and GCMS), so that we can simulate the manufacturing process and usage environment of the products of our customers to help develop new products.
2.Line-up

We have various pre-coated aluminum fin stock with good hydrophilicity, corrosion resistance and press formability to meet the demands for heat Exchangers.
Use/Name
Indoor
KS176
Outdoor
KS655
Outdoor
(Corrosion resistant)
KS101, KS128
Coating Composition
Feature
Anti-odor
Easy to press with small amount of oil
Good hydrophilicity
Excellent
corrosion resistance
Used in seashore area
Hydrophilicity
Excellent
For indoor environment
Excellent
For outdoor environment
Good
Odor Inhibition
Excellent
Inhibit indoor odor
-
-
Formability
Excellent
Minimal die abrasion
Good
Excellent
Minimal die abrasion
Corrosion Resistance
Good
Good
Excellent
For seashore area
Manufacture range (mm)
Thickness:0.08-0.2
Width:-1600
*If you need a larger or a smaller size product mentioned above, please contact us.
3.Pre-coating Technology

We have the technology of 4th layer coating (chemical conversion coating + 3 coating), with which we can meet the demands for multifunctional fin stock of our customers.
The Schema of 4th Layer Coating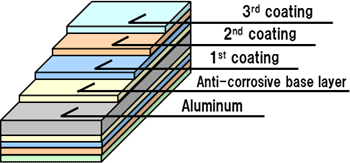 Layer composition
Antibacterial/Mold proofing, Stain Proofing Fin Stock (the 4th layer coated fin)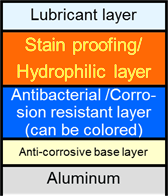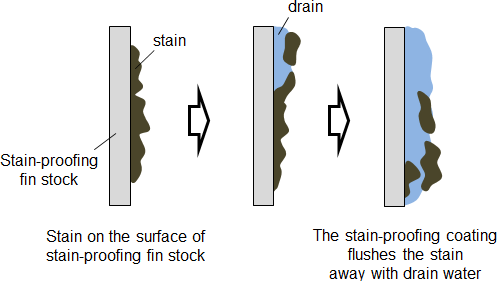 4.Aluminum Alloy

We have several kind of aluminum alloys for fin stock including in-house developed alloy "1J70". We can recommend the best one according to your forming type.
In-house Developed Alloy

1J70
It is easy to handle, and has good formability, thermal conductivity and suitable for down sheet metal gauging.
Ordinary Alloy

1200
It is an ordinary aluminum with a purity of over 99.0%.
5. Contact Us

Pre-coated aluminum fin stock is sold through some certain trading companies. Our fin stock is not only used in Japan but also in China, South-East Asia, Europe, etc.
Please contact us about our products and trading companies dealing in our fin stock.